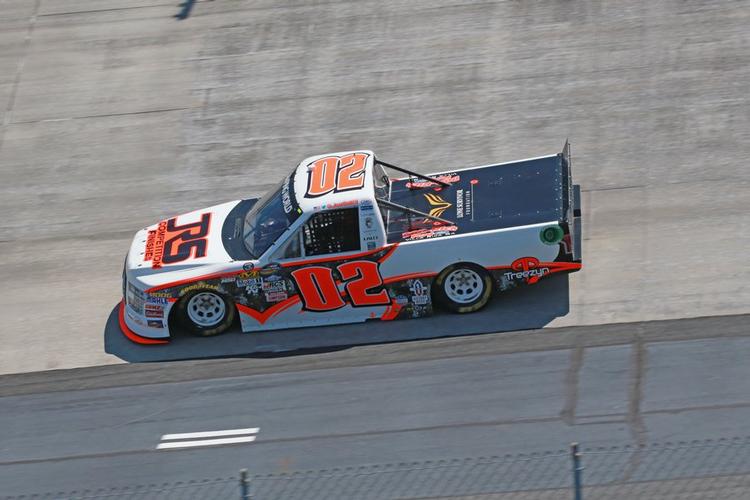 Hill's Day Cut Short After Getting Collected in Competitor?s Wreck
June 5, 2017
NASCAR Camping World Truck Series
Bar Harbor 200
Dover International Speedway
June 2, 2017
Race Highlights:
The Bar Harbor 200 marked the 6th race of the 2017 NASCAR Camping World Truck season and fourth race for Austin Hill.
Hill started 19th and was racing near the top-15 before being taken out by another competitor's spin.
This was Hill's second career NCWTS start at the Dover, Del. facility.
Johnny Sauter earned the victory and was followed to the finish line by Kaz Grala, Grant Enfinger, Ben Rhodes and Austin Cindric.
Hill's next scheduled event is at Gateway Motorsports Park on Saturday, June 17th. The race will broadcast live on FoxSports1.
Hill's Day Cut Short After Getting Collected in Competitor's Wreck
Austin Hill and the No. 02 JRS Competition Finishes Ford F150 overcame a broken transmission in the weekend's first practice session, en route to posting the ninth fastest time in final practice. After fighting an extremely tight truck in qualifying due to the drastic change in track temperature, Hill started the 200-lap event in the 19th position. Quickly making work of the trucks in front of him, Hill was battling around the top-15 when another truck spun directly in front of the No. 02 JRS Competition Finishes Ford, making direct contact and knocking the radiator out of the truck. Hill would be credited with a 27th place finish.
Start – 19 Finish – 27 Laps Led – 0
AUSTIN HILL QUOTE:
"Its really disheartening to have such a good truck and have your day end so quickly due to someone else's mistake. Our JRS Competition Finishes truck was a top-10 truck without a doubt. The crew overcame adversity in the fist practice session with the broken transmission and we were ready to battle our way to the front. I want to thank everyone for all of the continued support and we will regroup and get ready to head to Gateway (Motorsports Park)."
###
About Austin Hill
Austin Hill, a Winston, Ga. native, is driven to become the next big name in NASCAR. The 23-year-old is driving a partial schedule in the 2017 NASCAR Camping World Truck Series, in a newly formed partnership with Young's Motorsports, in the No. 02 Ford F-150. Hill successfully graduated, after being a two-year member of NASCAR Next, a program designed to cultivate and promote the sports' next generation of superstars. Hill started his racing career at the age of six in Quarter Midgets and won the 2002 Quarter Midget championship at his home track in Cumming, G.A. before moving on to excel in the Bandolero, Legends Series and Pro Late Model Series. While in the NASCAR Next program, Hill secured five wins and one pole award in the NASCAR K&N Pro Series East, along with 13 top-five, 24 top-10 finishes. Hill currently resides in Salisbury, N.C. with his wife, Ashlyn, and daughter, Lynnlee.