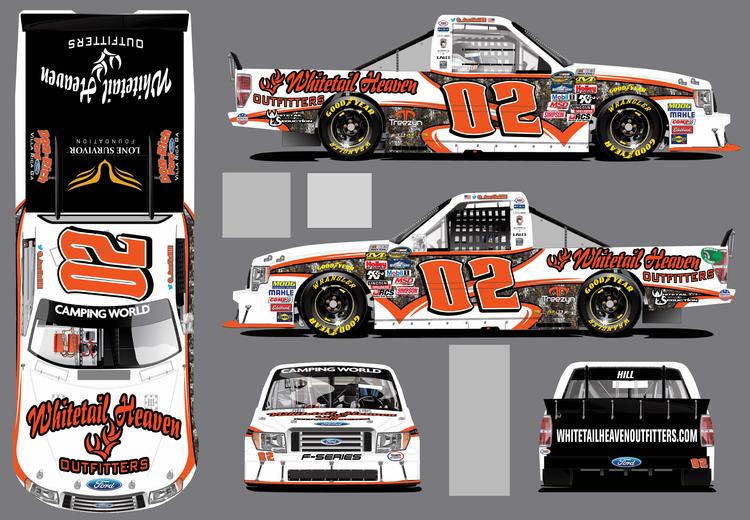 Whitetail Heaven Outfitters Partners with Austin Hill and Young's Motorsports
July 3, 2017
Whitetail Heaven Outfitters Partners with Austin Hill and Young's Motorsports
One of the Nation's most recognized hunting destinations, Whitetail Heaven Outfitters kicks off primary partnership at Kentucky Speedway
MOORESVILLE, N.C. (July 3, 2017) – Austin Hill and Young's Motorsports are pleased to announce today, that associate sponsor Whitetail Heaven Outfitters, will expand their presence with the No. 02 team Ford F150 team as primary sponsor at Kentucky Speedway on Thursday, July 6, 2017. Joining the legendary outfitter on Hill's NASCAR Camping World Truck Series (NCWTS) entry, will be Whitetail Seduction, the official Trophy Deer Minerals of Whitetail Heaven Outfitters.
"Everyone at Whitetail Heaven Outfitters is really excited about expanding our partnership with Austin Hill and the entire Young's Motorsports team," commented Tevis McCauley, owner Whitetail Heaven Outfitters. "Our passion for the outdoors, hunting and wildlife management, shows through in our harvest year-after-year and we saw that same passion with Austin and his race team, heading to each track. It's a once and a lifetime experience to see our brand displayed on the Young's Motorsports truck this week at Kentucky (Speedway) and we look forward to hunting this fall with Austin and the crew and sending them home with some trophy class whitetail deer."
Forging the partnership through a love of trophy typical and non-typical whitetail deer hunting, Hill and his Young's Motorsports crew met the team from Whitetail Heaven Outfitters, after searching for the best Boone and Crockett hunting destination in the US. The partnership originally kicked off as an associate sponsorship at Atlanta Motor Speedway at the start of the 2017 NASCAR season and now culminates with a primary presence at Kentucky Speedway in the Buckle Up in Your Truck 225. Whitetail Heaven Outfitters will also be a major associate on the truck for all of the the NCWTS races Hill is slated to drive during the remainder of the season.
"I feel very fortunate to be able to represent one of the best whitetail hunting destinations in the world, Whitetail Heaven Outfitters. Hunting has been part of my life as much as racing has and I have spent a lot of time with my family and team out in the woods. Tevis (McCauley) and his crew guide hunts on some of the most beautiful, fertile and quality Boone and Crockett hunting lands in Kentucky, Indiana and Ohio and not only myself but my entire team look forward to representing them at Kentucky (Speedway) this week."
Whitetail Heaven Outfitters is in the heart of the hottest whitetail destinations in the world and we've been satisfying our clients for over 15-years with extremely high success rates. We are blessed to be able to carry hunters to the woods in the greatest trophy buck destinations in the world. Whitetail Heaven is excellent habitat and provides an excellent opportunity to harvest a mature Boone and Crocket scoring Buck. We manage and hunt over 50,000 acres in the heart of Boone & Crockett country. Little to zero hunting pressure on most of our properties allows us to continue to produce mature bucks every season. Good genetics, a healthy well fed herd, intense management practices, age and very experienced, knowledgeable guides is what gets us the results we want every year. We have cherry picked properties scattered across Southern Ohio, Central Kentucky, Florida and Southern Indiana that are as good of trophy buck hunting properties there are. Ohio, Kentucky and Indiana all rank in the top-5 for number of Boone and Crockett entries made over the past 5-years making them the current go to big buck destinations.
Flag-to-flag coverage of the Buckle Up in Your Truck 225 will be televised on FoxSports1 beginning at 8:00 p.m. Eastern Time on Thursday, July 6, and broadcast live on the Performance Racing Network (PRN) and Sirius XM Satellite Radio beginning at 8:00 p.m. ET.
Fans can follow Hill on social media for updates at AustinHillRacing (Facebook), @_AustinHill (Twitter) and _Austin_Hill_ (Instagram). Also be sure to check out Whitetail Heaven Outfitters at WhitetailHeaven (Facebook), Whitetail Heaven Outfitters (YouTube), whitetailheaven (Instagram) and WhitetailHeavenOutfitters.com
###
About Austin Hill
Austin Hill, a Winston, Ga. native, is driven to become the next big name in NASCAR. The 23-year-old is driving a partial schedule in the 2017 NASCAR Camping World Truck Series, in a newly formed partnership with Young's Motorsports, in the No. 02 Ford F-150. Hill successfully graduated, after being a two-year member of NASCAR Next, a program designed to cultivate and promote the sports' next generation of superstars. Hill started his racing career at the age of six in Quarter Midgets and won the 2002 Quarter Midget championship at his home track in Cumming, G.A. before moving on to excel in the Bandolero, Legends Series and Pro Late Model Series. While in the NASCAR Next program, Hill secured five wins and one pole award in the NASCAR K&N Pro Series East, along with 13 top-five, 24 top-10 finishes. Hill currently resides in Salisbury, N.C. with his wife, Ashlyn, and daughter, Lynnlee