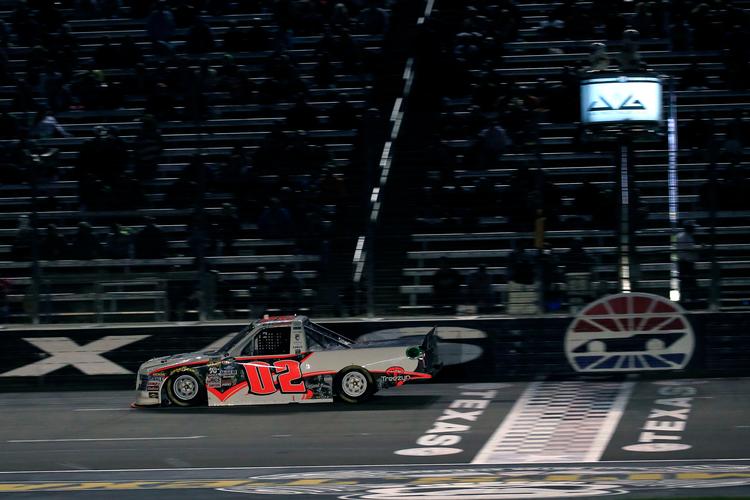 Hill Wheels United Rentals Ford to an 11th Place Finish at Texas
November 4, 2017
NASCAR Camping World Truck Series
Jag Metals 350 Driving Hurricane Harvey Relief
Texas Motor Speedway
November 3, 2017
Race Highlights:
The Jag Metals 350 marked the 21st race of the 2017 NASCAR Camping World Truck season and eleventh race for Austin Hill.
Hill ended both practice sessions, Thursday, November 2 in the 11th position.
This was Hill's second start at the Texas. facility.
Johnny Sauter earned the victory, followed by Austin Cindric, Christopher Bell, Chase Briscoe and Justin Haley.
Hill's next scheduled event is at Phoenix International Raceway on Friday, November 10th. The race will broadcast live on FoxSports1.
Hill Wheels United Rentals Ford to an 11th Place Finish at Texas
Austin Hill and the No. 02 United Rentals Ford F150 team entered Texas Motor Speedway with stout expectations and a goal of a top-10 finish in Friday night's race. Using Friday's two practice sessions, the crew, led by veteran crew chief Bruce Cook, worked on the handling of the truck, on the new pavement of Texas Motor Speedway. Starting the 147-lap battle Friday evening in 17th, Hill spent most of his time in and around the top-10, while fighting an ever-tightening race truck. Using the caution at the end of Stage 1 to their advantage the team pitted for two tires, fuel and a round of trackbar and air pressure adjustments. Hill would restart the race 16th and begin battling his way towards the front. Working his way as high as second place, Hill was forced to pit late in the race for fuel. Hill continued to battle through the remaining laps, to bring home the No. 02 United Rentals Ford F150 in the 11th position.
Start – 17 Finish – 11 Laps Led – 0
AUSTIN HILL QUOTE:
"Everyone on this United Rentals Ford team did a fantastic job all weekend in Texas. We unloaded off the semi with a really fast race-pace truck and once we got clean air during the race it showed. I want to thank everyone from United Rentals and Young's Motorsports for their support and I look forward to getting after it in Phoenix next week."
###
About Austin Hill
Austin Hill, a Winston, Ga. native, is driven to become the next big name in NASCAR. The 23-year-old is driving a partial schedule in the 2017 NASCAR Camping World Truck Series, in a newly formed partnership with Young's Motorsports, in the No. 02 Ford F-150. Hill successfully graduated, after being a two-year member of NASCAR Next, a program designed to cultivate and promote the sports' next generation of superstars. Hill started his racing career at the age of six in Quarter Midgets and won the 2002 Quarter Midget championship at his home track in Cumming, G.A. before moving on to excel in the Bandolero, Legends Series and Pro Late Model Series. While in the NASCAR Next program, Hill secured five wins and one pole award in the NASCAR K&N Pro Series East, along with 13 top-five, 24 top-10 finishes. Hill currently resides in Salisbury, N.C. with his wife, Ashlyn, and daughter, Lynnlee.
About United Rentals Inc.
United Rentals, Inc. is the largest equipment rental company in the world. The company has an integrated network of 1,029 rental locations in 49 states and every Canadian province. The company's approximately 14,900 employees serve construction and industrial customers, utilities, municipalities, homeowners and others. The company offers approximately 3,300 classes of equipment for rent with a total original cost of $11.2 billion. United Rentals is a member of the Standard & Poor's 500 Index, the Barron's 400 Index and the Russell 3000 Index® and is headquartered in Stamford, Conn. Additional information about United Rentals is available at unitedrentals.com.