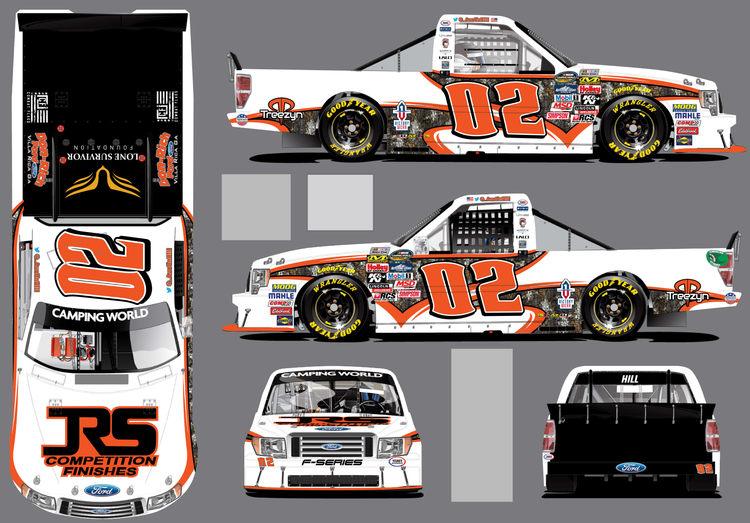 Two Time NASCAR K&N East Series Dover Winner Austin Hill Looks to Tame Monster Mile
May 30, 2017
Austin Hill
No. 02 JRS Competition Finishes Ford F150
Young's Motorsports
Event Preview Sheet
Event Bar Harbor 200
Date: June 2, 2017
Venue: Dover International Speedway
Two Time NASCAR K&N East Series Dover Winner Austin Hill Looks to Tame Monster Mile
Hill to pilot No. 02 JRS Competition Finishes Ford F150 in Friday's race
Former two-time NASCAR K&N East Series Dover International Speedway winner Austin Hill, looks to gain from his previous Monster Mile experience in Friday afternoon's NASCAR Camping World Truck Series event. Hill, piloting the No. 02 JRS Competition Finishes Ford F150 for Young's Motorsports, has two previous NCWTS Dover starts, with a career best finish of 16th.
This Week's Young's Motorsports Ford at Dover … Austin Hill will pilot chassis No. 101 from the Young's Motorsports stable. The team recently purchased the Kyle Busch Motorsports (KBM) chassis from Athenian Motorsports, where John Wes Townley piloted it to victory lane at Las Vegas Motor Speedway.
Hill at Dover… In three NASCAR K&N East Series starts at Dover, Hill and his family owned team, won back-to-back races in 2013 and 2014 and were set to win a third consecutive Miles the Monster trophy in 2015, before a motor expired late in the race.
Welcome JRS Competition Finishes… Providing quality paint and body work, for some of racing's top teams, as well as custom work for the general public, JRS Competition Finishes is based out of Mooresville, N.C.
Calling the Shots … Calling the shots from atop the Young's Motorsports pit box this weekend will be veteran crew chief Bruce Cook. Cook, a staple in the NASCAR Xfinity Series and NASCAR Camping World Truck Series garage joined the team beginning with Hill's first race under the Young's banner at Martinsville Speedway.
Up in the Sky … Calling the shots high above Dover International Speedway this weekend will be two-time Concord Speedway NASCAR LMSC Champion and current NASCAR Monster Energy Cup Series spotter, Mike Herman Jr. Hill and Herman previously worked together throughout his NASCAR K&N Pro Series East career, including both of his wins at Dover.
Social Media… To keep up-to-date with the latest news and information and to view exclusive content, visit the Official Twitter pages of Austin Hill @_AustinHill and Young's Motorsports owner Tyler Young @TylerYoung02
Catch the Action … Flag-to-flag coverage of the Bar Harbor 200 will be televised on FoxSports 1 beginning at 5:30 p.m. Eastern Time on Friday, June 2, and broadcast live on the Motor Racing Network and Sirius XM Satellite Radio beginning at 5:30 p.m. ET.
AUSTIN HILL QUOTE:
"Dover (International Speedway) is by far one of my favorite tracks to visit on any of the NASCAR circuits I've been fortunate enough to compete on. From gaining my first career NASCAR K&N East Series victory there to winning back-to-back. While my previous two truck starts didn't garner the finish we wanted, we feel we are better prepared than ever this week and I am eager to hit the track Thursday and Friday."
###
About Austin Hill
Austin Hill, a Winston, Ga. native, is driven to become the next big name in NASCAR. The 23-year-old is driving a partial schedule in the 2017 NASCAR Camping World Truck Series. Hill is a two-year member of NASCAR Next, a program designed to cultivate and promote the sports' next generation of superstars. Over his career, Hill has secured five NASCAR K&N victories and one pole award. Hill started his racing career at the age of six in Quarter Midgets. He won the 2002 Quarter Midget championship at his home track in Cumming, Ga. and went on to excel in Bandolero, Legends Semi-Pro Series and Pro Late Model Series racing. Hill currently resides in Salisbury, N.C. with his wife, Ashlyn, and daughter, Lynnlee