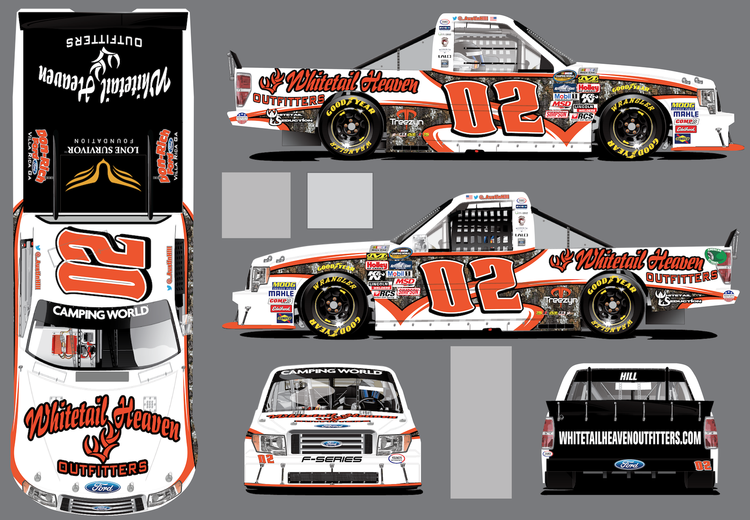 Austin Hill Looks to Ride Momentum from Recent Top-10 Finish
July 25, 2017
Austin Hill
No. 02 Whitetail heaven Outfitters Ford F150
Young's Motorsports
Event Preview Sheet
Event Overton's 150
Date: July 29, 2017
Venue: Pocono Raceway
Austin Hill Looks to Ride Momentum from Recent Top-10 Finish
Whitetail heaven Outfitters joins Hill as he makes second career start at Pocono Raceway
Winston, G.A. native Austin Hill looks to use momentum gained from a top-10 finish at Kentucky Speedway earlier this month into a solid performance this weekend at Pocono Raceway in the Overton's 150. Hill showed impressive speed in last year's event at the "tricky triangle" and ultimately started sixth before getting caught in an early race wreck. Young's Motorsports is pleased to also announce that Whitetail Heaven Outfitters, one of the nation's most recognized hunting destinations, will rejoin the team in the primary role for this weekend's race.
This Week's Young's Motorsports Ford at Pocono … Austin Hill will pilot chassis No. 012 from the Young's Motorsports stable. Chassis 012 most recently raced at Kentucky Speedway where Hill piloted it to a 10th place finish.
Second Times a Charm… Hill will be making his second career start at the 2.5-mile three-turned triangle track. In his only other appearance, Hill started the event sixth, before getting relegated to a 31st place finish due to damage.
Halfway This Time… Saturday's 150-mile race marks the seventh event of the 2017 NASCAR Camping World Truck Series for Austin Hill in the No. 02 Ford F150 and the halfway spot for his season with Young's Motorsports.
Whitetail Heaven Outfitters … Whitetail Heaven is excellent habitat and provides an excellent opportunity to harvest a mature Boone and Crocket scoring Buck. We manage and hunt over 50,000 acres in the heart of Boone & Crockett country. Little to zero hunting pressure on most of our properties allows us to continue to produce mature bucks every season. Good genetics, a healthy well fed herd, intense management practices, age and very experienced, knowledgeable guides is what gets us the results we want every year. We have cherry picked properties scattered across Southern Ohio, Central Kentucky, Florida and Southern Indiana that are as good of trophy buck hunting properties there are. Ohio, Kentucky and Indiana all rank in the top-5 for number of Boone and Crockett entries made over the past 5-years making them the current go to big buck destinations.
Social Media… Fans can follow Hill on social media for updates at AustinHillRacing (Facebook), @_AustinHill (Twitter) and _Austin_Hill_ (Instagram). Also be sure to check out Whitetail Heaven Outfitters at WhitetailHeaven (Facebook), Whitetail Heaven Outfitters (YouTube), whitetailheaven (Instagram) and WhitetailHeavenOutfitters.com
Catch the Action … Flag-to-flag coverage of the Overton's 150 will be televised live on FOX beginning at 1 p.m. Eastern Time on Saturday, July 29, and broadcast live on the Motor Racing Network and Sirius XM Satellite Radio beginning at 1 p.m. ET.
AUSTIN HILL QUOTE:
"Pocono (Raceway) was a really good track, speed wise, for our team last season and I believe that coupled with the momentum of our top-10 finish at Kentucky (Speedway) a few weeks ago, should set us up for a great weekend of racing. It's also exciting to have Whitetail Heaven Outfitters come back aboard in another primary role and have their logo adorning our Treezyn Camo lined Ford F150."
###
About Austin Hill
Austin Hill, a Winston, Ga. native, is driven to become the next big name in NASCAR. The 23-year-old is driving a partial schedule in the 2017 NASCAR Camping World Truck Series. Hill is a two-year member of NASCAR Next, a program designed to cultivate and promote the sports' next generation of superstars. Over his career, Hill has secured five NASCAR K&N victories and one pole award. Hill started his racing career at the age of six in Quarter Midgets. He won the 2002 Quarter Midget championship at his home track in Cumming, Ga. and went on to excel in Bandolero, Legends Semi-Pro Series and Pro Late Model Series racing. Hill currently resides in Salisbury, N.C. with his wife, Ashlyn, and daughter, Lynnlee.