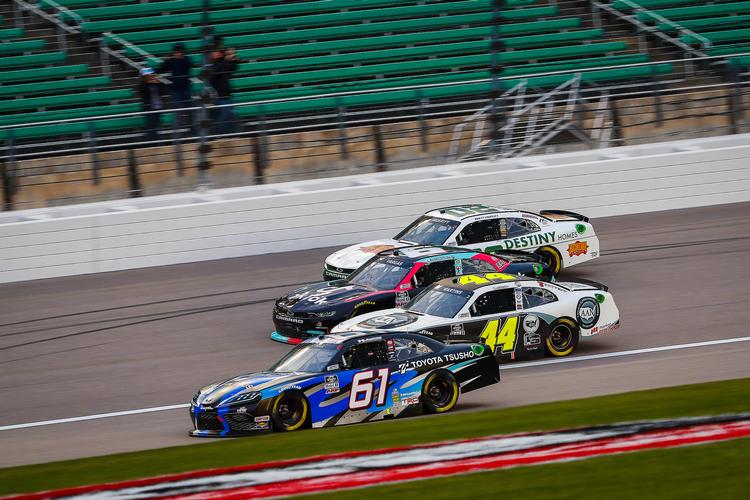 Hill Scores First Career Xfinity Series Top-FIve
October 18, 2020
Austin Hill capped off his double-duty weekend by posting a career-best finish in the NASCAR Xfinity Series (NXS) at Kansas Speedway on Saturday night. The driver of the No. 61 Toyota Tsusho Toyota Supra earned his first career top-five with a fifth-place result in the second act of Saturday's doubleheader. The performance also set the mark for HRE as the organization's best NXS finish and followed a stunning third-place finish for Hill and the Toyota Tsusho team in the NASCAR Gander RV & Outdoors Truck Series event earlier in the day.
Hill started his first NXS appearance at Kansas deep in the field in 29th position but wasted no time making his way towards the front. By the race's first caution on lap 10, Hill had cracked the top 15 and briefly made his way inside the top 10 during Stage 1, but finished the first segment in 12th on lap 45.
Crew chief Scott Zipadelli and the Toyota Tsusho team gave Hill four tires and a track bar adjustment to help loosen his balance in the center of both corners. The changes aided Hill and he advanced inside the top 10 over the next 40-plus laps and allowed him to hold the 10th position at the end of Stage 2 on lap 90. Hill received another batch of tires and adjustments under the stage caution to help his Toyota Supra turn which paid dividends in the race's second half.
Multiple adjustments by Zipadelli and company uncovered more speed in the No. 61 and had Hill up to ninth position by lap 108 and kept him inside the top 10 until a caution on lap 168. Since Hill recently pitted for tires on the backside of a green-flag pit cycle, he stayed on track during the caution to inherit the third position on a lap 173 restart. He maintained position inside the top-six positions until a late-race caution on lap 191. Hill used the choose-cone restart rule to line up third for the final restart on lap 197 and held position in the top-five to score his career best NXS finish. The fifth-place finish was Hill's first top-five performance in his ninth career start.
Austin Hill Quote:
"Just a great organization and a great team backing me. Everybody back at the shop – Scott (Zipadelli) and all the guys back at HRE, they've been really working hard on this Xfinity program to get the results that we feel like we deserve. It's been a little bumpy road here and there. We've had some decent runs, we ran pretty good at Darlington and then to be able to come out here tonight and come home with a top-five is really good. It shows how hard this team really works and how good this organization is. Our Toyota Tsusho Supra was good. It fired off on the tight side. We kept working on it, got it a little better and then we had a little strategy there at the end to get a little track position and it kind of woke the car up a little bit there. It wasn't as fast as Xfinity internet tonight, but it was pretty good."