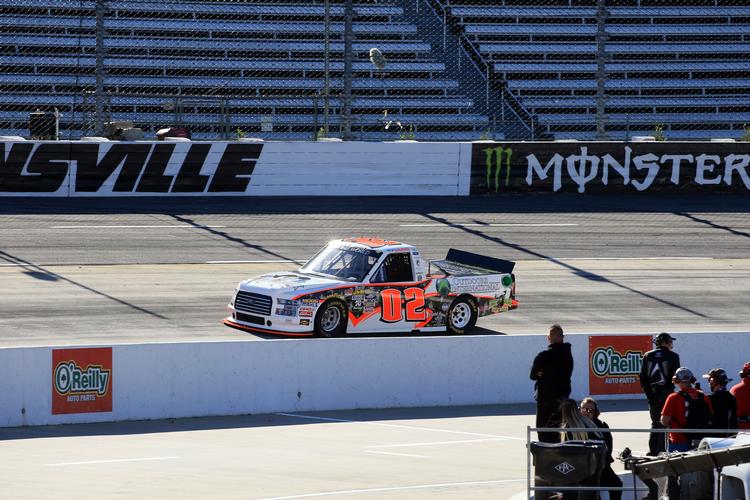 Hill Battles Loose Truck and Brake Issue for Top-Twenty Finish at Martinsville
October 30, 2017
NASCAR Camping World Truck Series
Texas Roadhouse 200 presented by Alpha Energy Solutions
Martinsville Speedway
October 28, 2017
Race Highlights:
The Texas Roadhouse 200 marked the 20th race of the 2017 NASCAR Camping World Truck season and tenth race for Austin Hill.
Hill started 239rd and fought a loose truck throughout the entire race, ultimately coming home 16th.
This was Hill's third career NCWTS start at the Martinsville, V.A. facility.
Noah Gragson earned the victory and was followed to the finish line by Matt Crafton, Johnny Sauter, Harrison Burton and Todd Gilliland.
Hill's next scheduled event is at Texas Motor Speedway on Friday, November 3rd. The race will broadcast live on FoxSports1.
Hill Battles Loose Truck and Brake Issue for Top-Twenty Finish at Martinsville
Austin Hill and the No. 02 Outdoors International team started the Texas Roadhouse 200 in the 23rd position after making it through the second round of qualifying. Shortly after taking the green flag, Hill radioed that the truck was loose and his brake pedal was fading fast. Using both caution periods ending each of the first two segments, crew chief Bruce Cook made minor adjustments to Hill's Ford F150, including, wedge and air pressure as well as attempting to better cool the brakes. Continuing to wrestle his unresponsive truck, Hill battled through lapped traffic, enroot to a 16th place finish after getting trapped in the high line on the last restart.
Start – 23 Finish – 16 Laps Led – 0
AUSTIN HILL QUOTE:
"I'm not really sure why the truck would get loose in the center and then become completely numb on exit. We had great straightaway speed and the truck entered the turns well, but we just lacked from center off. A big thank you goes out to Casey Jensen and everyone at Outdoors International for coming on board this weekend. We look forward to working together in the future."
###
About Austin Hill
Austin Hill, a Winston, Ga. native, is driven to become the next big name in NASCAR. The 23-year-old is driving a partial schedule in the 2017 NASCAR Camping World Truck Series, in a newly formed partnership with Young's Motorsports, in the No. 02 Ford F-150. Hill successfully graduated, after being a two-year member of NASCAR Next, a program designed to cultivate and promote the sports' next generation of superstars. Hill started his racing career at the age of six in Quarter Midgets and won the 2002 Quarter Midget championship at his home track in Cumming, G.A. before moving on to excel in the Bandolero, Legends Series and Pro Late Model Series. While in the NASCAR Next program, Hill secured five wins and one pole award in the NASCAR K&N Pro Series East, along with 13 top-five, 24 top-10 finishes. Hill currently resides in Salisbury, N.C. with his wife, Ashlyn, and daughter, Lynnlee.