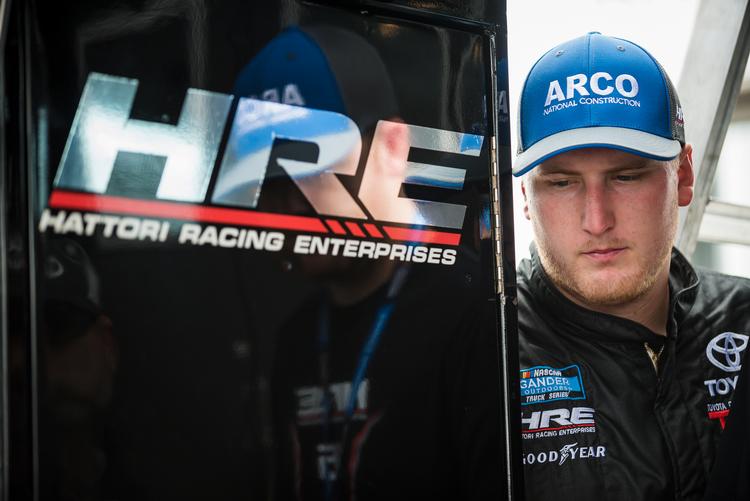 Hill Looks to Be a Road Race Ace at Mid-Ohio
June 2, 2021
Aiming to Be a Road Race Ace … For the first time in nearly three years, Austin Hill is returning to the ARCA Menards Series (ARCA). Hill will make his debut at Mid-Ohio Sports Car Course aboard the No. 1 ARCO Construction Toyota Camry as he looks to fine tune his road racing craft and become a "road course ace". Friday's 42-lap contest at Mid-Ohio is the first of Hill's two scheduled ARCA starts this season, the other of which will be at Watkins Glen International (WGI) as he prepares for the remaining road course event on the NASCAR Camping World Truck Series schedule later this season.
It's Been a While … June 28, 2018 was the last time that Hill competed in the ARCA Racing Series, but has five wins in 43 combined starts between the ARCA Menards Series and the ARCA Menards East and West Series. He has six road course starts at three different venues in the ARCA Menards Series East, with the most recent coming at WGI in 2018. The Winston, Ga native's best finish was a third at Virginia International Raceway driving for his family's team in 2014. Hill looks to join Max McLaughlin and Brett Moffitt as road course winners in ARCA competition for HRE in his debut at Mid-Ohio.
Season to Date … After 10 events of his "day job" in the Camping World Truck Series, Hill holds the third position in the championship standings after a consistent season just one race shy of the halfway point. Hill's best finish of the season was a runner-up at Atlanta Motor Speedway (AMS) in March and has collected three top-five and seven top-10 finishes thus far. Both road course races that Hill has competed in this season have been on wet track conditions and most recently finished ninth in the Camping World Trucks' debut at Circuit of the Americas.
Chassis Selection … Hill will pilot chassis No. 008 on Friday evening at Mid-Ohio, which has a history of winning. Moffitt and McLaughlin both went to victory lane at WGI in this car in 2018 and 2019. Most recently, McLaughlin finished seventh at Daytona International Speedway's road course last August in this Toyota Camry.
Tune In … FOX Sports 1 will have live coverage of the Dawn 150 at 6:00 p.m. ET on Friday evening. Stay connected with the No. 1 ARCO National Construction team by following @Hattori_Racing on Twitter, @hattoriracing on Instagram, and Hattori Racing Enterprises on Facebook.
Austin Hill Quote:
On getting more road course experience at Mid-Ohio:
"Any time you can get laps on a road course, it's really helpful. Even though we've been doing more road course racing over the last couple years, you always want to keep improving yourself as a driver. It's cool to be able to race at Mid-Ohio this week with ARCO National Construction on board. It's a place I've never been to but has a short-track road course look to it. There are a couple long straightaways, but the track has quite a few slower, tight sections. Any laps we get on a road course helps our effort on the truck side, so hopefully we'll be able to have a smooth day on Friday and bring home a trophy."