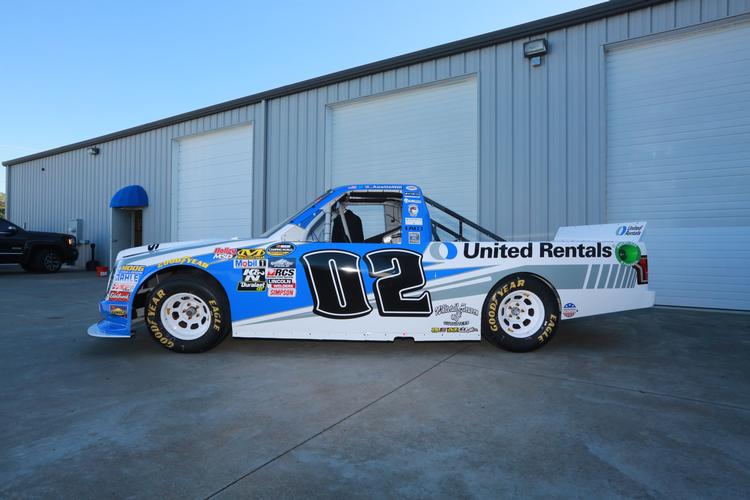 Austin Hill and United Rentals Team Up for Lucas Oil 150 at Phoenix
November 7, 2017
Austin Hill
No. 02 United Rentals Ford F150
Young's Motorsports
Event Preview Sheet
Event Lucas Oil 150
Date: November 10, 2017
Venue: Phoenix International Raceway
Austin Hill and United Rentals Team Up for Lucas Oil 150 at Phoenix
United Rentals will be the primary sponsor on the No. 02 Ford F150
After earning an 11th place finish last week at Texas Motor Speedway, Austin Hill and his No. 02 Young's Motorsports team head to Phoenix International Raceway for Friday night's Lucas Oil 150. After debuting with the team as a major associate sponsor at Texas, United Rentals will rejoin Hill as the primary sponsor for the seasons second to last race.
This Week's Young's Motorsports Ford at Phoenix … Austin Hill will pilot chassis No. 012 from the Young's Motorsports stable. Chassis 012 most recently raced at New Hampshire Motor Speedway where a broken brake caliper ended the team's day early in 22nd place.
Hill at Phoenix… Hill will be making his first career NCWTS start at the 1.022-mile track in Avondale, Arizona. While he will be debuting in NCWTS, Hill has one previous start at the facility in 2014, in the NASCAR K&N Pro West Series, where he started 5th and finished 15th after a late race accident took him from contention.
Finale for Hill… Friday nights race will mark the 12th and final NASCAR Camping World Truck Series event of 2017 for Hill in the No. 02 Ford. Hill's teammate, Tyler Young, will compete in the season finale at Homestead-Miami Speedway.
United Rentals. Everything you need, plus equipment … Founded in 1997, United Rentals is the largest equipment rental company in the world. Our team of dedicated and experienced customer service professionals coupled with a universal commitment to safety gives us a competitive advantage. Today, our company continues to build on its industry leadership with a best-in-class range of resources and the innovative technology to support our diverse customer base. United Rentals: Everything you need, plus equipment
#UR2017PitStopTour… After the checkered flag flew at Texas Motor Speedway, Hill and crew began making their way West towards Phoenix. Along the route, they visited several United Rentals locations as well as visited unique sights across the American countryside and Route 66. Fans can follow along with the conclusion of their tour with the hashtag #UR2017PitStopTour on Facebook, Instagram and Twitter.
Social Media… Fans can follow Hill on social media for updates at AustinHillRacing (Facebook), @_AustinHill (Twitter) and _Austin_Hill_ (Instagram). Also, be sure to check out United Rentals at UnitedRentals (Facebook), @United_Rentals (Twitter), United.Rentals (Instagram) and UnitedRentals.com
Catch the Action … Flag-to-flag coverage of the Lucas Oil 150 will be televised live on FS1 beginning at 8:30 p.m. Mountain Time on Friday, November 10, and broadcast live on the Motor Racing Network (MRN) and Sirius XM Satellite Radio beginning at 8:30 p.m. MT.
AUSTIN HILL QUOTE:
"I'm really excited to head to Phoenix (International Raceway) this week and make my first NASCAR Camping World Truck Series start at the track. We were leading the NASCAR K&N West Series race there in 2014, before getting taken out in a wreck, and I've always wanted to come back. I can't thank United Rentals enough for coming onboard as our primary sponsor for this event. We had a great time working with them at Texas (Motor Speedway) and this weekend looks to be that much better."
###
About Austin Hill
Austin Hill, a Winston, Ga. native, is driven to become the next big name in NASCAR. The 23-year-old is driving a partial schedule in the 2017 NASCAR Camping World Truck Series. Hill is a two-year member of NASCAR Next, a program designed to cultivate and promote the sports' next generation of superstars. Over his career, Hill has secured five NASCAR K&N victories and one pole award. Hill started his racing career at the age of six in Quarter Midgets. He won the 2002 Quarter Midget championship at his home track in Cumming, Ga. and went on to excel in Bandolero, Legends Semi-Pro Series and Pro Late Model Series racing. Hill currently resides in Salisbury, N.C. with his wife, Ashlyn, and daughter, Lynnlee.
About United Rentals Inc.
United Rentals, Inc. is the largest equipment rental company in the world. The company has an integrated network of 1,029 rental locations in 49 states and every Canadian province. The company's approximately 14,900 employees serve construction and industrial customers, utilities, municipalities, homeowners and others. The company offers approximately 3,300 classes of equipment for rent with a total original cost of $11.2 billion. United Rentals is a member of the Standard & Poor's 500 Index, the Barron's 400 Index and the Russell 3000 Index® and is headquartered in Stamford, Conn. Additional information about United Rentals is available at unitedrentals.com