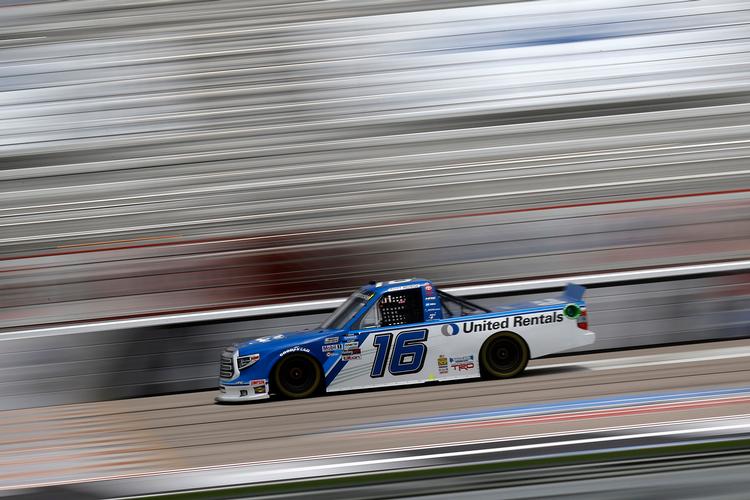 Hill Aims to Rebound in Kansas' Doubleheader
July 22, 2020
On the Rebound … Austin Hill enters the doubleheader weekend at Kansas Speedway looking to rebound after his only blemish of the 2020 season last weekend at Texas Motor Speedway. Hill has delivered four top-five and seven top-10 finishes in the first eight races, and posted a record for HRE of eight straight top-10 results dating back to 2019. He and the No. 16 United Rentals team pull into Kansas a year removed from a fourth-place effort last May and aim to extend their point lead in the NASCAR Gander RV & Outdoors Truck Series championship standings.
Double Features … For the first time in series history, Hill and the Gander Trucks competitors will race two points-paying races on a single weekend. Rounds nine and 10 on Kansas' 1.5-mile configuration are right up Hill's alley, given the strength he and the United Rentals team have exhibited at those speedways over the last year and a half. The Winston, Ga. native has claimed three top-five and five top-10 finishes in the six races on 1.5-mile tracks this season. Hill has also posted two wins, five top-five, and seven top-10's in the last eight races on those tracks dating back to his victory at Las Vegas Motor Speedway in 2019.
Kansas Rewind … This weekend's doubleheader will double Hill's experience in the Kansas plains. Only two of his 82 career Gander Trucks starts have come at Kansas, but he's built a solid track record with finishes of fourth (2019) and 12th (2018) in those two appearances.
Chassis Selection … Crew chief Scott Zipadelli and the HRE team have prepared chassis No. 007 for the first 200-miler on Friday evening. Hill has driven this Toyota Tundra to two runner-up finishes in its last two outings at Atlanta Motor Speedway and most recently at Pocono Raceway. In the event that No. 007 isn't able to compete on Saturday afternoon, the United Rentals team has chassis No. 010 as a backup. Chassis No. 010 most recently finished fifth at Kentucky Speedway and has top-10 finishes in all four appearances this year.
Tune In … The first act of the Gander Trucks doubleheader goes green at 7:00 p.m. ET on Friday, live on FOX Sports 1. FS1 will also have live coverage of Saturday's 200-miler at 1:30 p.m. ET. Stay updated with Hill and the No. 16 team by following @Hattori_Racing on Twitter, Hattori Racing Enterprises on Facebook, and @hattoriracing on Instagram.
Austin Hill Quote:
On his outlook for the series' first doubleheader weekend:
"It's a big challenge for all the teams with having to prepare two primary trucks. Even though we're only allowed to race one truck in both races, our guys have two United Rentals Tundras in case we need to pull out a backup for Saturday. As far as the racing goes, it'll be business as usual. It was disappointing to have an engine issue at Texas last weekend, but we ran well at Kansas last year and it's only made me more motivated to rebound after last week to try to get our team back to victory lane. We've had the speed to do it all year, and I think we have a great chance to give United Rentals, TRD, and Toyota a win for all their support that they put into our program. Even though Saturday is a day race, we'll have some notes to work off of from Friday night's race, so hopefully we can come out of there with a pair of checkered flags this weekend."