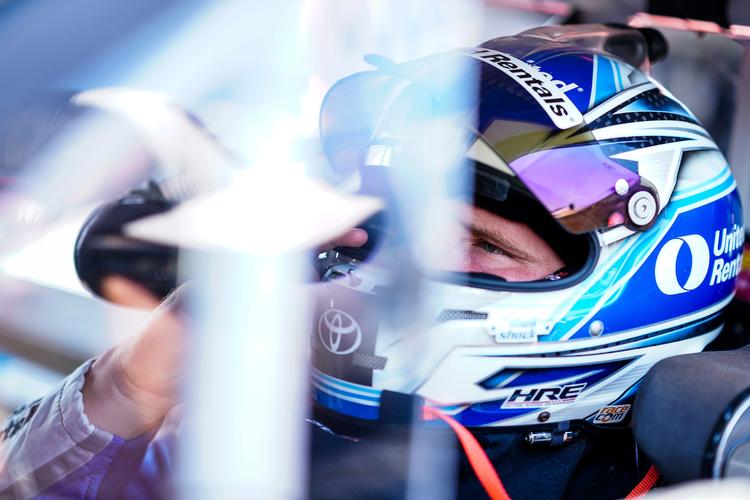 Hill Doubles Down on Double Duty at Pocono
June 23, 2021
Double Down Double Duty … Austin Hill will double down on his double duty schedule with his second NASCAR Xfinity Series (NXS) start of the season at Pocono Raceway on Sunday afternoon. The driver of the No. 61 Toyota Tsusho Toyota Supra is pulling back-to-back double duty weekends after his NXS season debut resulted in a ninth-place finish at Nashville Superspeedway a week ago. The "Tricky Triangle" is a venue that has suited Hill and the HRE organization in NASCAR Camping World Truck Series competition, and they'll look to score back-to-back top 10 NXS finishes for the first time in the team's history on Sunday afternoon.
Building Momentum … Hill and the Toyota Tsusho team have been building serious momentum in their brief NXS foray. Since delivering a ninth-place finish in his series debut at Indianapolis Motor Speedway in September 2019, Hill has delivered four top-10 runs in his 11 career starts. The Winston, Ga. product has wheeled HRE's No. 61 NXS entry to top-10 finishes in two of his last three appearances, including last October at Kansas Speedway where he posted a career best fifth-place finish. He'll look to continue the positive momentum at Pocono where he finished runner-up in the NASCAR Camping World Trucks race in 2020 and set the track record in 2019.
Season to Date … On the Camping World Trucks side, Hill currently sits third in the championship standings after 12 events and has scored four top five and nine top-10 finishes. His average finish of 10.5 is fourth among all drivers that have competed in every event and is one of only five competitors to be running at the finish of every race thus far. His aforementioned NXS season debut yielded a ninth-place finish last Saturday in "Music City", which tied his second-best result in the series.
Chassis Selection … The Toyota Tsusho team has prepared chassis No. 004 for Hill to wheel on Sunday afternoon at "The Tricky Triangle". This Toyota Supra most recently helped Hill earn his first-career top-five NXS finish at Kansas last season. Hill also drove chassis No. 004 to a 17th-place finish at Las Vegas Motor Speedway last September.
Tune In … NBC Sports Network continues their NXS coverage on Sunday with the Pocono Green 225 at Noon ET. Stay connected with the No. 61 Toyota Tsusho team by following @Hattori_Racing on Twitter, @hattoriracing on Instagram, and Hattori Racing Enterprises on Facebook.
Austin Hill Quote:
On his making his first NXS start at Pocono:
"We've had really fast Toyotas on the truck side each trip to Pocono and every time we race in the Xfinity Series we keep making improvements on our Supras. We had a couple top-10's last season with Toyota Tsusho on board and that really got our program going in the right direction. We had a solid run last week at Nashville, got a top-10, and gave ourselves more of a direction to work in. I think we can keep improving on that and hopefully race consistently towards the front of the field. Pocono has been one of our best tracks and I think our speed on the truck side will be able to help us with our Toyota Tsusho Supra on Sunday. We want to keep building this momentum and maybe get another top-five at Pocono."