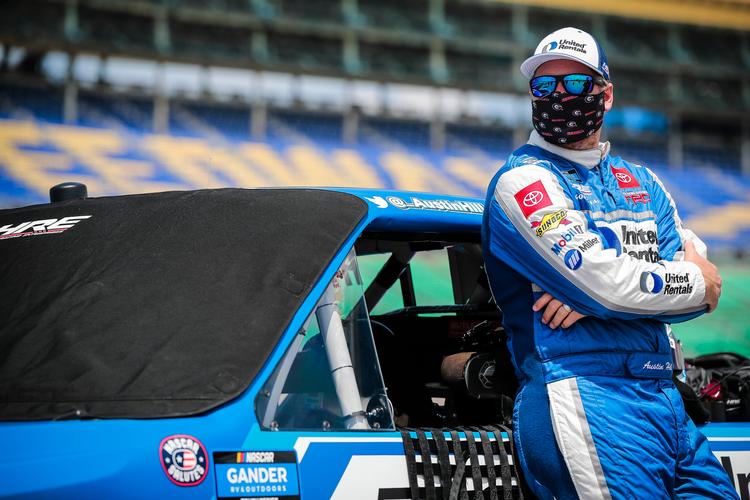 Hill Looks for Big Pay Day at Darlington
May 5, 2021
Throwback to a Legend … Austin Hill and the HRE team return to Darlington Raceway and will participate in "Throwback Weekend" at NASCAR's original superspeedway. Hill's United Rentals Toyota Tundra will have a different look on Friday night as the No. 16 team pays homage to NASCAR Whelen Modified Tour (NWMT) legend and NASCAR Hall of Fame Inductee Mike Stefanik. The black and blue colors are reminiscent of the No. 16 that Stefanik raced in the NWMT from 2010-2011. Stefanik claimed seven NWMT titles and two NASCAR Busch North Series crowns in his exemplary career, along with 74 and 12 race wins in each series, respectively. The Rhode Island native even earned the NASCAR Camping World Truck Series Rookie of the Year Honors in 1999. Hill will look to put this color scheme back in victory lane for the first time since Stefanik's last win in the No. 16 at New Hampshire Motor Speedway in 2011.
Looking for a Pay Day … "Throwback Weekend" carries extra weight for Hill and the United Rentals team as the "Triple Truck Challenge" returns with an extra $50,000 on the line. Darlington Raceway has a rich history of hosting big money races, and Hill looks to join the likes of the sport's legends such as Jeff Gordon and Bill Elliott (former winners of the Winston Million) to collect bonus money and a coveted trophy from the "Lady in Black". Hill brings a streak of five consecutive top-10 finishes to the track "Too Tough to Tame" and is fresh off a resilient third-place result at Kansas Speedway. He sits third in the championship standings and has an average finish of 5.4 over the last five races. Last September, Hill made his first appearance at Darlington with a ninth-place finish in the NASCAR Xfinity Series and followed that up with a third-place result in the Camping World Trucks event the following day.
Certified Official … The Winston, Ga. product is not only one of the most productive Camping World Trucks drivers, as evidenced by his six consecutive podium finishes on 1.5-mile tracks, but he's also plenty capable on a forklift. Hill recently visited United Rentals' Mooresville, NC branch to receive instruction and training from the United Academy Safety team for operating a 5000 lb. forklift. Just like United Rentals' employees, Hill received his certification and will carry a duplicate of that United Academy card on board the No. 16 Toyota Tundra on Friday night.
Chassis Selection … Crew chief Scott Zipadelli and the HRE squad prepared chassis No. 011 for their return to Darlington. This Tundra most recently raced at Texas Motor Speedway in October when Hill drove it to a runner up finish. Hill also was victorious in chassis No. 011 at Las Vegas Motor Speedway last September. If he's able to score a second victory with this Toyota in Friday's opening round of the Triple Truck Challenge, it'll be worth an extra $50,000.
Tune In … Friday's green flag from NASCAR's most storied speedway drops at 7:30 p.m. ET on FOX Sports 1, with coverage beginning on NASCAR Raceday at 6:30 p.m. ET. Stay connected with the No. 16 United Rentals team by following @Hattori_Racing on Twitter, @hattoriracing on Instagram, and Hattori Racing Enterprises on Facebook.
Austin Hill Quote:
On Throwback Weekend at Darlington:
"I always say it, but I love worn out racetracks, and Darlington is one of the most abrasive and slick tracks we race on. We had two good runs there last year in the truck and Xfinity car and hopefully we can build on that this week. We've got a really cool United Rentals throwback scheme, throwing back to Mike Stefanik and his modified career, so hopefully we can do it some justice and get to victory lane just like he did so many times in his career. There's a lot of extra money on the line this week and I'm hungry for a win. I know the rest of our team is just as motivated to win and we'd all love to get to victory lane at Darlington to lock ourselves in the playoffs."