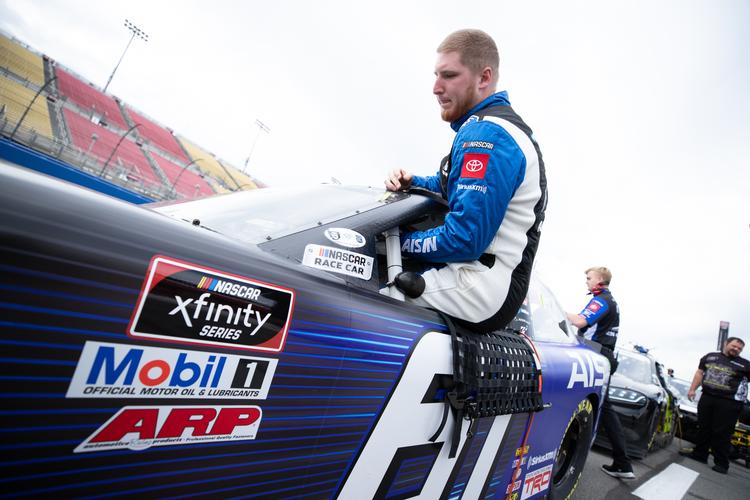 Hill Looks to Continue His Momentum at Texas
October 21, 2020
Building Momentum … A career-best performance at Kansas Speedway last weekend has Austin Hill eager to continue his momentum at Texas Motor Speedway on Saturday afternoon. The driver of the No. 61 AISIN Group Toyota Supra delivered his first career top-five finish in nine NASCAR Xfinity Series (NXS) starts with a fifth-place result at Kansas last Saturday night. The result was a significant milestone as it also marked the first top-five finish for HRE in the NXS. Hill and the No. 61 team have tallied a pair of top-10 results in their last five NXS appearances, including a ninth-place finish at Darlington Raceway in September.
Double Duty Finale … Saturday's 300-miler will mark Hill's first NXS start at TMS and will also be his final start in the series this season. The Winston, Ga. native has made eight NXS starts in 2020 while contesting the full NASCAR Gander RV & Outdoors Truck Series campaign and is elevating his performance as the season nears its completion. TMS will be the fourth race weekend in the last five weeks that Hill has contested double duty in both series and enters "No Limits Texas" on the strength of two top-five performances at Kansas. A similar result on Saturday afternoon at TMS would add further validation to Hill's performance at Kansas and help fuel his pursuit of the Gander Trucks championship on Sunday morning.
Season to Date … In his eight NXS starts this season, Hill matched his previous career-best finish with a ninth place run at Darlington before his breakthrough fifth-place outing last weekend. In 20 Gander Trucks events thus far, Hill sits second in the point standings firmly in the thick of the championship battle. He has accumulated two victories at Kansas and Las Vegas Motor Speedway and has been a model of consistency with 10 top-five and 16 top-10 finishes.
Chassis Selection … Crew chief Scott Zipadelli and the AISIN Group team have prepared HRE chassis No. 003 for Hill's final start of the season. This Toyota Supra most recently competed at Darlington in early September and was driven to a ninth-place finish.
Tune In … NBC Sports Network kicks off coverage from the "Lone Star State" at 4:00 p.m. ET with Countdown to Green followed by the green flag at 4:30 p.m ET. Stay updated with Hill and the No. 61 AISIN Group team by following @Hattori_Racing on Twitter, Hattori Racing Enterprises on Facebook, and @hattoriracing on Instagram.
Austin Hill Quote:
On continuing his momentum at Texas Motor Speedway:
"Last week was a great run for our entire team, everyone on the truck side and the Xfinity side. It feels good to have a top-five under our belt and hopefully we can have a similar run with the AISIN Group Supra on Saturday. It helps when you can run back-to-back weeks to stay in a rhythm and let us continue to develop our Xfinity program. We've always been pretty good at Texas on the truck side and I think it's a place we'll have a good opportunity to run well given our past success and understanding of the racetrack. Having 300 miles of extra track time will definitely help us for the truck race on Sunday too, so hopefully we can nail down a couple solid outings for everyone at AISIN Group, Toyota, and everybody at HRE.