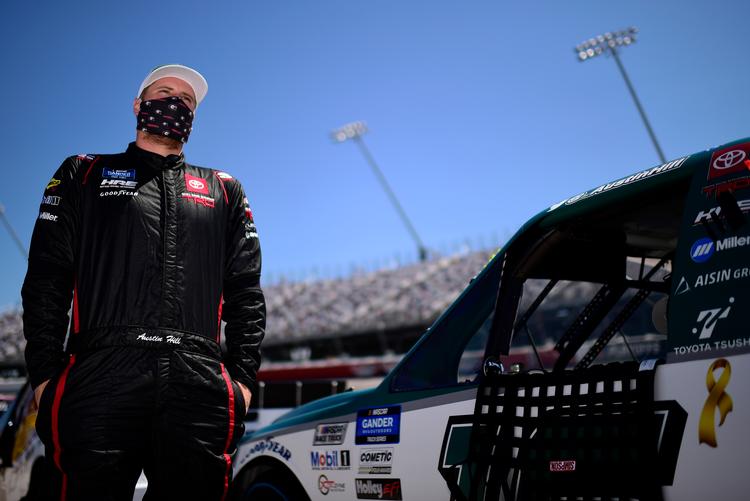 Kansas Provides Perfect Opportunity for Hill
April 27, 2021
Wide Open Opportunity … The window of opportunity is wide open for Austin Hill as the NASCAR Camping World Truck Series turns to Kansas Speedway for round seven. The driver of the No. 16 Gunma Toyopet Toyota Tundra rolls into the "Sunflower State" with momentum from four straight top-10 finishes and has gained 19 positions in the championship standings in that span. Now fourth in the driver point standings, Hill returns to the Midwest plains to guard his ground as a defending Kansas winner from last season. The Winston, Ga. product is one of the odds-on favorites as he has collected finishes of third and second in the two previous races at 1.5-mile tracks this season.
Absolute Juggernaut … When it comes to 1.5-mile racetracks, Hill has been an absolute juggernaut in recent history. The fourth-place driver in the standings brings a streak of five-consecutive podium finishes to Kansas at 1.5-mile venues dating back to his playoff win at Las Vegas Motor Speedway (LVMS) last September. His stunning string of performance on that style track dates back to his 2019 victory at LVMS. In the 15 races since that victory, Hill has compiled three wins, 11 top-five and 14 top-10 finishes. That span includes three stops at Kansas Speedway in 2020 where Hill tallied finishes of first, sixth, and third, and led 97 total laps in those events. If Hill can sustain his streak on Saturday evening, he'll stand a solid chance to lock himself in the playoffs with a second triumph at Kansas.
Season to Date … After starting the season with two results outside the top-20, Hill has clicked off an average finish of 6.0 in the last four races along with averaging 42.5 points earned per race. Since taking the controls of the No. 16 Toyota in 2019, Hill has never finished worse than sixth in four starts at Kansas and has led laps in each outing. Kansas has been Hill's most consistent track on the schedule where he has made multiple starts. In five career starts, he has posted an average finish of 5.2, his best of any track on the Camping World Trucks schedule.
Chassis Selection … Old reliable chassis No. 007 will roll out of the HRE transporter on Saturday for its second start of the 2021 season. Hill most recently piloted this Toyota Tundra to a runner-up finish at Atlanta Motor Speedway in March and raced it in all three events at Kansas Speedway last season.
Tune In … The green flag drops at 7:30 p.m. ET on FOX Sports 1 from Kansas while coverage starts with NASCAR Raceday at 7:00 p.m. ET. Stay connected with the No. 16 Gunma Toyopet team by following @Hattori_Racing on Twitter, @hattoriracing on Instagram, and Hattori Racing Enterprises on Facebook.
Austin Hill Quote:
On returning to Kansas as a former winner:
"Kansas has been really good for us and a place where we've always had a lot of speed. It was awesome to get a win there last summer and felt like we were one of the trucks to beat in the playoffs if we didn't have that damage in the left side door. (Crew Chief) Scott (Zipadelli) and all the guys at HRE have worked so hard to keep our intermediate program at a high level to give us so many chances to run up front over the last couple years. We're taking a truck that has been a proven piece for us and we all know we can put our Gunma Toyopet Tundra up front on Saturday night. We've had quite a bit of success in their colors and it'd be awesome to get them back to victory lane and lock ourselves in the playoffs this weekend."