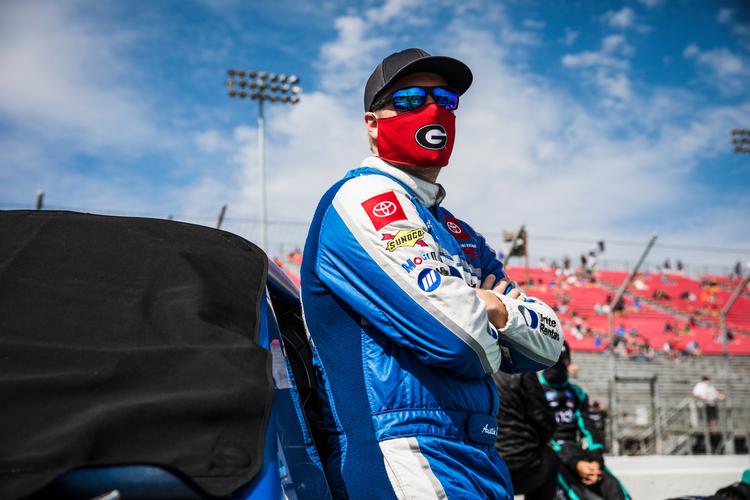 Hill Returns to Richmond Chasing Regular Season Crown
September 8, 2020
Close to a Crown … The Gander RV & Outdoors Truck Series returns to Richmond Raceway after a 15-year absence for the regular season finale. Austin Hill enters his first Gander Trucks appearance at Richmond leading the championship standings by 38 points and is close to claiming the regular season crown. If Hill is able to score 23 points (14th-place finish without stage points) in the ToyotaCare 250 on Thursday night, he will collect the 15-playoff point bonus that accompanies the honor no matter what any other competitor does. The driver of the No. 16 United Rentals Toyota Tundra has been a model of consistency through the first 15 events of 2020 and tied an HRE team record at Darlington Raceway last Sunday with 13 top-10 finishes in a single season.
The Right Stuff at the Right Time … No matter the sport, championship-caliber teams find their groove at right time leading into the playoffs. Hill, crew chief Scott Zipadelli, and the United Rentals team have done just that. Hill has delivered two straight top-three finishes and four consecutive finishes of eighth or better. In recent weeks, Hill has lowered his average finish to 6.8 and continues to lead the Gander Truck field in that category. The Winston, Ga. native has just one finish outside the top eight in the last seven races and has led laps in five of those events. He'll look to seal the regular season title with his first-career Gander Trucks short track victory on Thursday night.
Short/Flat Track History … Hill is one of the few competitors that enter the Gander Truck's Richmond return as a former winner at "America's Premier Short Track". In 2015, Hill captured his fifth-career win in what was known as the NASCAR K&N Pro Series East with his family-owned team. Thursday's ToyotaCare 250 marks the Gander Trucks' first short track event of the year, but Hill recently scored a podium finish at World Wide Technology Raceway (WWTR), which shares similar characteristics to Richmond's ¾-mile layout.
Chassis Selection … For the second time in three races, Hill will drive chassis No. 009 from the HRE stable. Zipadelli and company have refreshed this Toyota Tundra for the ToyotaCare 250 after Hill muscled it to a third-place finish at WWTR on August 30th in its sole appearance of the season.
Tune In … FOX Sports 1's coverage of the Gander Trucks regular season finale begins at 7:30 p.m. ET with NASCAR Raceday followed by the green flag at 8:00 p.m. ET. Stay updated with Hill and the No. 16 United Rentals team by following @Hattori_Racing on Twitter, Hattori Racing Enterprises on Facebook, and @hattoriracing on Instagram.
Austin Hill Quote:
On returning to Richmond:
"Having Richmond on the schedule is great for the series. It's one of the places the truck series was built on and it's always nice to go back to a track that you've won at. It'll be similar to Darlington where not a lot of guys in the field have much experience, and even though it was five years ago, it's always a benefit to have laps under your belt. We have the same United Rentals Tundra that we ran at Gateway and I think we made some gains on our short-track program. Scott and all the guys at HRE have done a lot of homework and put a ton of effort into improving that part of our program and I think it showed at Gateway even though we had some brake issues. It'll be nice starting on the pole and having some track position at the start. Hopefully we can stay on top of the racetrack all night and wrap up the regular season points with another win."