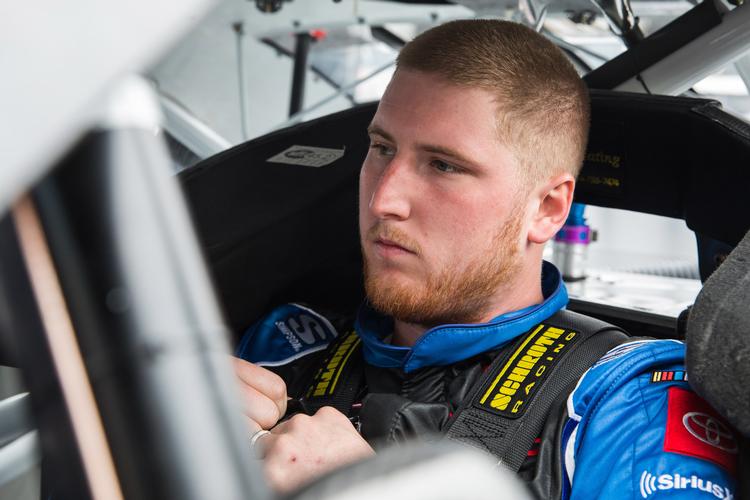 Hill Eager to Go Back-to-Back at Michigan
August 4, 2020
Finding Another Gear … Austin Hill has continued to elevate his performance with 10 of 23 races complete in the NASCAR Gander RV & Outdoors Truck Series. The driver of the No. 16 Toyota Racing Development, United Rentals Toyota Tundra heads to Michigan International Speedway (MIS) as the most consistent Gander Trucks driver on tour and has recently found another gear. Hill added to his staggering stat line two weeks ago at Kansas Speedway by picking up his first win of the season and earned a guaranteed berth into the Gander Trucks playoffs. He leads the championship standings by 43 points after posting a victory, five top-five, and nine top-10 finishes in 10 events with an average finish 7.1.
Pure Michigan Playground … Crew chief Scott Zipadelli and the No. 16 team have been the team to beat in recent trips to MIS, and no one has. The HRE team has made MIS their playground in recent memory as the No. 16 squad is aiming for their third-consecutive victory in Pure Michigan's Irish Hills on Friday evening. Hill led a race-high 26 laps en route to his second-career victory last August, which succeeded the thrilling photo finish triumph by Brett Moffitt in 2018. Dating back to 2016, Zipadelli has orchestrated victories in three of the last four Gander Trucks events at MIS and looks to tack on another this week. The No. 16 team has an average finish of third in the last three MIS races, including two wins with three different drivers.
Michigan History … Friday's 200-miler will be Hill's third start at the ultra fast two-mile tri oval. He muscled his way to victory lane in his first MIS start with HRE last year and finished 19th in his track debut in 2018. Hill is on a streak of 10 top-10 finishes in the last 11 Gander Trucks races, including two victories and looks to go back-to-back in the Irish Hills.
Chassis Selection … Chassis No. 011 gets a chance at redemption after an engine issue plagued its debut at Texas Motor Speedway in July. Friday marks the second appearance for the newest Toyota Tundra in HRE's stable and it's first true evaluation for Hill, Zipadelli, and the No. 16 team.
Tune In … FOX Sports 1 will carry live coverage from MIS on Friday evening at 6:00 p.m. ET. Stay updated with Hill and the No. 16 team by following @Hattori_Racing on Twitter, Hattori Racing Enterprises on Facebook, and @hattoriracing on Instagram.
Austin Hill Quote:
On aiming for back-to-back wins at Michigan:
"I say it all the time, but I'm so confident in what Scott (Zipadelli) and these guys bring to the track every week. We had a great truck last year and made the most of it, so all of us are confident we can do the same thing this week with Toyota Racing Development and United Rentals on board. I'd love to go back-to-back at Michigan, and I know these guys would love to go three-in-a-row, but it's a difficult place to get and keep track position. Michigan can race like a superspeedway after restarts when everyone is packed together and there's a lot of drafting in play. You have to be smart about when you pick and choose your runs so you don't get hung out to dry down the straightaways. We had a great handling Tundra last year and could even make a lot of passes on the bottom throughout the day. Hopefully we can have a similar balance this week to where we can make moves if we need to and take advantage of the clear air if we can put ourselves out front."