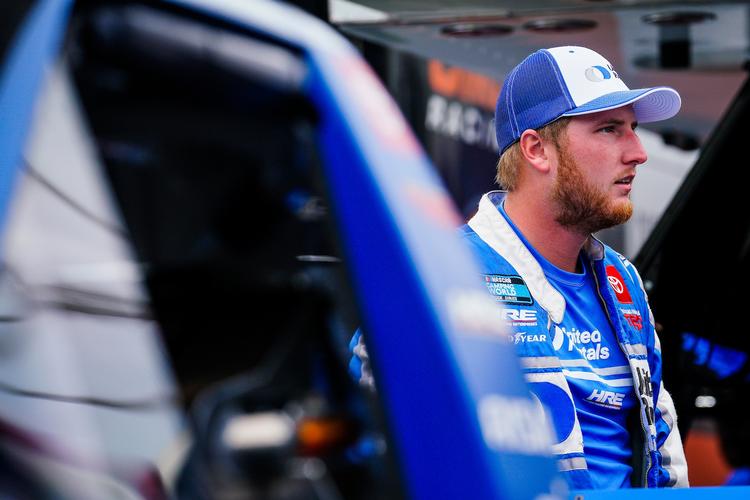 Hill Hopes to Capitalize on Home Asphalt Advantage at Charlotte
May 25, 2021
Home Asphalt Advantage … Austin Hill has a well-deserved "home game" on the docket at Charlotte Motor Speedway (CMS) on Friday night after crisscrossing the country the last three races. The driver of the No. 16 United Rentals Toyota Tundra enters the 10th race on the calendar hungry for his first win of the season and looks to capitalize on racing just 30 minutes from HRE's race shop in Mooresville, NC. Hill comes to CMS with an incredible streak of 15 top-10 finishes in the last 16 NASCAR Camping World Truck Series events contested on 1.5-mile tracks, and includes four victories.
Superb Consistency … The Winston, Ga. product has quietly constructed a consistent season and is looking to make his first appearance in victory lane this year. Hill has been superb in recent memory at 1.5-mile tracks and has scored podium finishes in all three races at those venues this season. After overcoming a significant vibration to post a third-place finish at Kansas Speedway earlier this month, Hill extended his streak of podium finishes at 1.5-mile tracks to six consecutive races. His most recent victory on a 1.5-mile track came in the playoffs last season at Las Vegas Motor Speedway, and replicating that performance at CMS would guarantee a playoff berth for he and the No. 16 team.
Season to Date … After nine of 22 races this season, Hill resides fourth in the Camping World Trucks point standings. Hill has posted three top-five and six top-10 finishes and has advanced 19 positions in the championship standings over the last seven races. During that span, Hill has earned an average finish of 7.0 and has top-10 results in his last two outings at CMS. Since taking the reigns of the No. 16 United Rentals Toyota Tundra, Hill has finishes of sixth and eighth at CMS and has led laps in both starts.
Chassis Selection … The workhorse, chassis No. 007, is back in action on Friday night. Hill most recently drove this Tundra to a third-place finish at Kansas and a runner-up at Atlanta Motor Speedway earlier this spring. Chassis No. 007 is the most decorated truck in HRE's fleet and went to victory lane in the first of three races at Kansas in 2020.
Tune In … FOX Sports has coverage of Friday's jam-packed one day show from CMS. Practice at 11:35 a.m. ET will be on FOX Sports 2, while FOX Sports 1 will carry qualifying at 5:35 p.m. ET and the green flag at 8:30 p.m. ET. Stay connected with the No. 16 United Rentals team by following @Hattori_Racing on Twitter, @hattoriracing on Instagram, and Hattori Racing Enterprises on Facebook.
Austin Hill Quote:
On racing at home and returning to a 1.5-mile track:
"Our entire team wants to win really bad for United Rentals and Toyota and Charlotte has been a good place for us the last couple years. We led quite a few laps last season and just ran out of laps towards the end to get back to the front. It's nice to race at home for a change and be able to spend the whole week with family, so it'd be extra special to get a win this week. It's a fast, rough racetrack that has a lot of character and can be a challenge to get a hold of. We're bringing 007 again and have had a lot of success just about every time we've raced it. We just need to execute the way we know how and we'll put ourselves in the right position for a win Friday night."