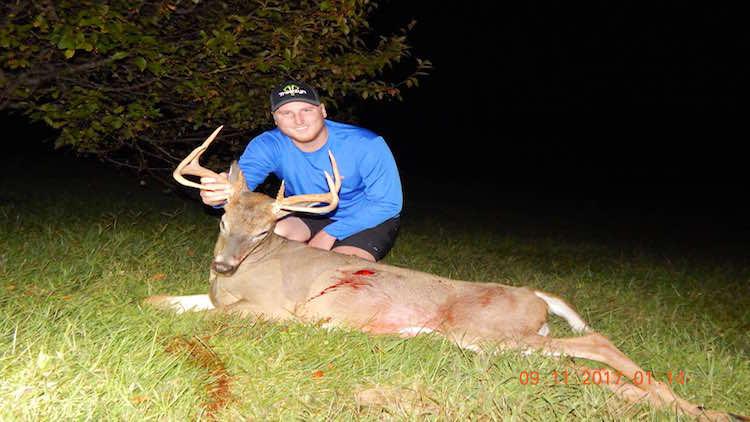 After Finding Success at Whitetail Heaven Outfitters Hill Looks to Replicate Success on Track at New Hampshire
September 20, 2017
Austin Hill
No. 02 Whitetail heaven Outfitters Ford F150
Young's Motorsports
Event Preview Sheet
Event UNOH 175
Date: September 23, 2017
Venue: New Hampshire Motor Speedway
After Finding Success at Whitetail Heaven Outfitters Hill Looks to Replicate Success on Track at New Hampshire
Whitetail heaven Outfitters provides Hill with first ever archery kill on a Kentucky Whitetail
After a successful whitetail deer hunt for Austin Hill and team at Whitetail Heaven Outfitters in Kentucky, the nations most recognizable hunting destination is proud to rejoin the team at New Hampshire Motor Speedway for this weekends UNOH 150 NASCAR Camping World Truck Series event. Winston, G.A. native Hill, competing this season for Young's Motorsports recently harvested his first ever archery buck while at Whitetail Heaven Outfitters.
This Week's Young's Motorsports Ford at New Hampshire … Austin Hill will pilot chassis No. 012 from the Young's Motorsports stable. Chassis 012 most recently raced at Pocono Raceway where Hill piloted it to a 11th place finish.
Hill at The Magic Mile… Hill will be making his second career NCWTS start at the 1.058-mile track in Loudon, N.H. In his only other appearance, Hill started the event 11th, working solidly into the top-10 before a failed oil line relegated him to a 30th place finish. Hill also has two starts in the NASCAR K&N Pro East Series, earning one top-five and two top-10 finishes.
Archery Success in Kentucky… Hill and team spent a week with Whitetail Heaven Outfitters at their Central Lodge in Nicholasville, K.Y. for the opening of the Kentucky archery season. After watching the Kentucky Whitetails all week, Hill took his first ever archery kill on a solid 8-point mature buck.
Whitetail Heaven Outfitters … Whitetail Heaven is excellent habitat and provides an excellent opportunity to harvest a mature Boone and Crocket scoring Buck. We manage and hunt over 50,000 acres in the heart of Boone & Crockett country. Little to zero hunting pressure on most of our properties allows us to continue to produce mature bucks every season. Good genetics, a healthy well fed herd, intense management practices, age and very experienced, knowledgeable guides is what gets us the results we want every year. We have cherry picked properties scattered across Southern Ohio, Central Kentucky, Florida and Southern Indiana that are as good of trophy buck hunting properties there are. Ohio, Kentucky and Indiana all rank in the top-5 for number of Boone and Crockett entries made over the past 5-years making them the current go to big buck destinations.
Social Media… Fans can follow Hill on social media for updates at AustinHillRacing (Facebook), @_AustinHill (Twitter) and _Austin_Hill_ (Instagram). Also be sure to check out Whitetail Heaven Outfitters at WhitetailHeaven (Facebook), Whitetail Heaven Outfitters (YouTube), whitetailheaven (Instagram) and WhitetailHeavenOutfitters.com
Catch the Action … Flag-to-flag coverage of the UNOH 150 will be televised live on FS1 beginning at 1 p.m. Eastern Time on Saturday, September 23, and broadcast live on the Performance Racing Network (PRN) and Sirius XM Satellite Radio beginning at 1 p.m. ET.
AUSTIN HILL QUOTE:
"New Hampshire (Motor Speedway) is one of my favorite tracks on the NCWTS circuit. It races like a short track but carries a fair amount of speed down the straightaways. We had one of the best runs to date at Loudon last year but unfortunately an oil line failed and ended our day early. We're looking to replicate last years speed and come out with a solid finish. A big thank you to Whitetail Heaven Outfitters for joining us on the race truck for New Hampshire. I was lucky enough to take my first archery whitetail buck in Kentucky a few weeks back with them and I look forward to joining them again soon."
###
About Austin Hill
Austin Hill, a Winston, Ga. native, is driven to become the next big name in NASCAR. The 23-year-old is driving a partial schedule in the 2017 NASCAR Camping World Truck Series. Hill is a two-year member of NASCAR Next, a program designed to cultivate and promote the sports' next generation of superstars. Over his career, Hill has secured five NASCAR K&N victories and one pole award. Hill started his racing career at the age of six in Quarter Midgets. He won the 2002 Quarter Midget championship at his home track in Cumming, Ga. and went on to excel in Bandolero, Legends Semi-Pro Series and Pro Late Model Series racing. Hill currently resides in Salisbury, N.C. with his wife, Ashlyn, and daughter, Lynnlee