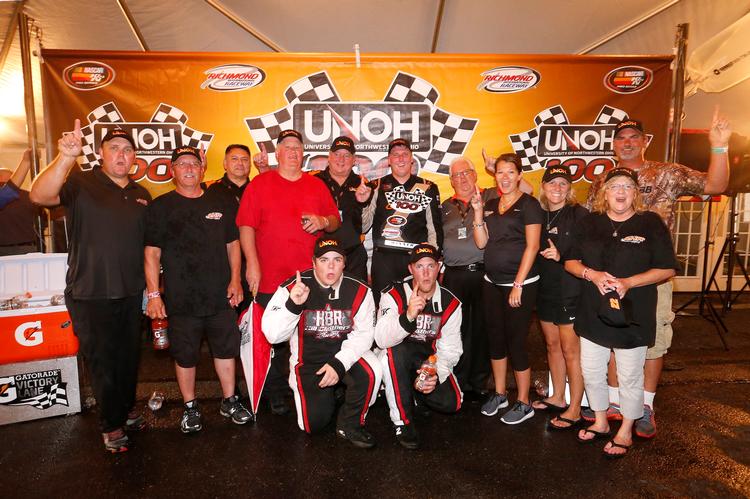 HILL TRIUMPHS IN RICHMOND
September 10, 2015
HILL TRIUMPHS IN RICHMOND
For the fifth time, Austin Hill is a winner in the NASCAR K&N Pro Series East.
RICHMOND, Va. (September 10th) – Last Thursday night, for the fifth time in his NASCAR K&N Pro Series East career, Austin Hill climbed from his No. 22 A&D Welding Ford a winner.
Hailing from Winston, Ga., Hill started third and led 43 of 70 laps – the race was shortened due to rain – en route to his second win this season in the UNOH 100 at Richmond International Raceway. It was his first win at the 0.750-mile circuit.
"Clean air was definitely big tonight," the NASCAR Next member Hill said after the race. "Once I got the lead the car started handling a lot better. It was great winning in front of a lot of the NASCAR Sprint Cup Series teams. I know we definitely showed there is no quit in this team."
However, despite making it look like a walk in the park, Hill struggled out of the truck. In fact, he ran 22nd in the first practice session. But the 21-year-old persevered through and consistently improved until the green flag.
"We unloaded terrible," Hill explained. "I did not think we had a chance to win, but we threw a lot of stuff at it in practice. I did not even know what we had going into the race. But obviously it worked."
With now one race remaining in the 2015 K&N Pro Series East season, Hill has found himself with a mathematical chance at the championship going into Dover International Speedway next month.
Currently, he sits third in the championship race, a mere 11 markers behind points leader William Byron.
Even though he does not control his destiny, Hill is going into Dover with his focus on winning and scoring the most possible points.
"All our focus going into Dover is leading the most laps and winning in order to get max points," Hill expressed. "Hopefully that will edge us in front of William Byron, giving us our first title."
Hill has won the last two K&N Pro Series races at the Monster Mile, it is also the site of his first career win.
The Drive Sober 125 at Dover is slated for October 4th.
ABOUT AUSTIN HILL
Austin Hill is a 21-year-old Georgia racer who competes full-time in the NASCAR K&N Pro Series East for his family-owned organization.
Hill is in his second full-time season in the K&N Pro Series and has recorded four total victories. He is also a member of the NASCAR Next class, a group of select up-and-coming drivers who are believed to be the future of the sport.
Marketing partners for Hill include A&D Welding, his family-owned business and Don Rich Ford, a local Ford dealership in Georgia.