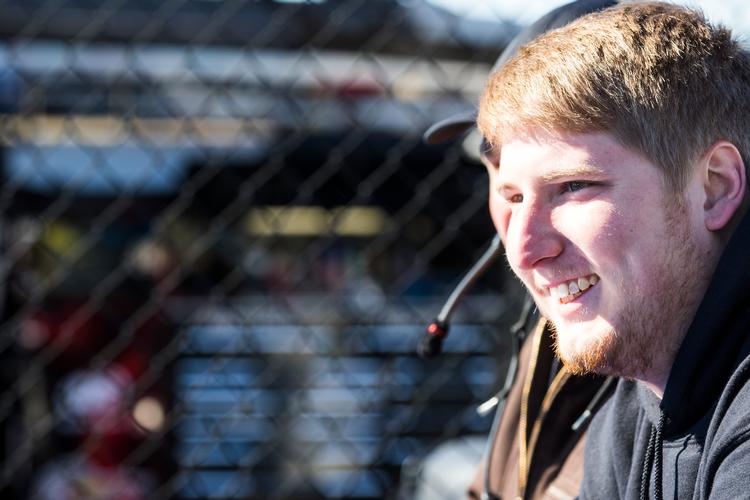 HILL EXCITED TO RETURN TO DOVER
May 10, 2016
HILL EXCITED TO RETURN TO DOVER
Austin Hill will make his second NASCAR Camping World Truck Series start of the 2016 season.
MOORESVILLE, N.C. (May 10, 2016) – Austin Hill is ready to make his second NASCAR Camping World Truck Series (NCWTS) start of the season at Dover International Speedway piloting the No. 20 A&D Welding Ford F-150. With two wins in only four starts at the track, the NASCAR Next alum considers the 1-mile concrete oval his favorite track on the circuit.
"This race is probably the biggest race of the whole year for me personally because I've been there four times and won twice in the K&N Series there," said Hill. "Getting a win at Dover and it being my first win in K&N, I obviously have to say that it's my favorite track!"
Hill led more than 60 laps en route to each of his victories in 2013 and 2014 at Dover International Speedway. His 2015 starts at Dover showed strong runs but a blown engine in his K&N car and pit road woes in his NCWTS debut at the track derailed those efforts.
Hill has set high goals for himself and the team going into Dover, especially considering his previous success at the track.
"Going back with our own stuff in the Truck Series, I definitely think we're going to have a shot at a Top-5, and hopefully we'll be around at the end to sweep a win," said Hill. "My goal going to Dover is to get a win with the success we've had and my experience there."
Driving for a family-owned team with a partial NCWTS schedule this season, Hill has used the time off to grow the team and prepare for the upcoming races.
"This two month break has obviously been really big for us. We were able to build another truck and get things together so we're 100 percent ready when it comes to Dover and Charlotte," explained Hill. "We're going to be on top of our game, we're going to be really prepared for these upcoming races."
However, the break in the schedule wasn't all work. The 22-year-old celebrated a birthday and spent time with family,
"The time off has been nice. I did a lot of fishing with my dad and brother and hung out with Ashlyn (wife) and Lynnlee (daughter) a lot. At the same time about a month is all I can take," said Hill. "After a month, I start itching real bad and I'm ready to get back to racing."
Finishing well at Dover carries extra weight for Hill and his team, especially since his opportunities to win are limited this year.
"We don't get to run as many races as the other guys this year so I really want to do well. Dover and Charlotte being back to back and then having another month off before the next race I really want to do well there so that month off I'm not sitting there banging my head against the wall. I'm really excited about Dover and I think it's going to be a fun race."
The NCWTS race will take place on Friday, May 13 at 5:30 p.m. ET at Dover International Speedway. Fans can follow Hill on social media for updates at Austin Hill Racing (Facebook), @_AustinHill (Twitter) and/or _austin_hill_ (Instagram).
About Austin Hill
Austin Hill, a Winston, Ga. native, is driven to become the next big name in NASCAR.
The 22-year-old is driving a partial schedule in the 2016 NASCAR Camping World Truck Series, securing a Top-15 finish in his one start this season. Hill earned a third-place finish in the NASCAR K&N Pro Series East Championship in only his second full-time season in the series. Hill is a two-year member of the NASCAR Next program, a program designed to cultivate and promote the sports' next generation of superstars. Over the past two years, Hill has secured four NASCAR K&N victories and 12 Top-5 finishes. Hill started his racing career at the age of six in Quarter Midgets. He won the 2002 Quarter Midget championship at his hometrack in Cumming, Ga. and went on to excel in Bandolero, Legends Semi-Pro Series and Pro Late Model Series racing. Hill currently resides in Mooresville, N.C. with his wife, Ashlyn, and daughter, Lynnlee.