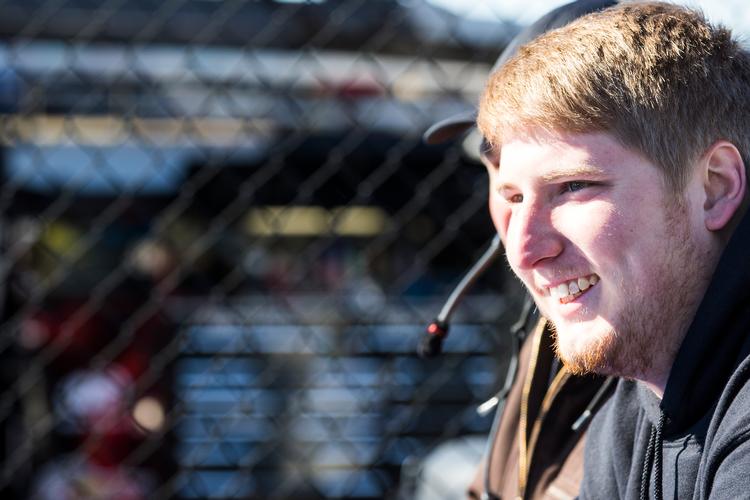 HILL COACHING NEXT GENERATION OF STARS
July 27, 2016
HILL COACHING NEXT GENERATION OF STARS
For Austin Hill, coaching young up-and-coming racers has been an eye-opening experience and helped in his own racing.
MOORESVILLE, N.C. (July 27, 2016) – For NASCAR Camping World Truck Series (NCWTS) driver Austin Hill being a driver coach to a young up-and-coming racer has been an eye-opening experience and has helped him evaluate his own driving skills.
The 22-year-old driver and US Legend Cars veteran has been working with 14-year-old Hailie Deegan, daughter of X-Games medalist and off-road racing champion Brian Deegan, who is competing in the Bojangles Summer Shootout at Charlotte Motor Speedway (CMS) this summer.
Hill has a strong history at CMS in Legend Cars, winning the 2008 Legends Semi-Pro Summer Shootout Championship, finishing second in the 2012 Legends Big Money 100 and recording five wins.
"We have two weeks left in the Summer Shootout and Hailie has come a long way from when I first started working with her," said Hill. "She's picked up over half a second in the first four or five weeks of the shootout and is running good times. I'm working with her right now on racing in a pack on asphalt. She has a lot of experience on dirt and asphalt presents a new set of challenges."
Hill has enjoyed the experience and has also used his role as a driver coach to evaluate his own performance behind the wheel.
"Coaching does make you take a step back after you leave the track," said Hill. "It makes you think 'Okay, what can I do, personally, to be a better driver and to help my truck team get the finishes that I feel we deserve?' It really helps me stay focused and be in a good mindset going into a race weekend."
This weekend Hill is heading to Pocono Raceway to compete in the Pocono Mountains 150, piloting the No. 02 for Young's Motorsports.
Having not raced at the "Tricky Triangle" before, Hill sought guidance from others with success in the NCWTS at Pocono Raceway, reaching out to members of his crew and former drivers for some advice.
"Even though I haven't been to Pocono, I've been watching as many videos and talking to as many people as I can," said Hill. "Even just sitting down with some of my crew members to get their opinion on the track and what I can do as a driver. I feel like if I'm better prepared then the entire team is going to be better prepared going into the weekend."
"I'm really excited about going to Pocono; the track is very unique. There's not any other track on the circuit like it and I think it's going to be a great race."
The Pocono Mountains 150 will take place on Saturday, July 30 at 1:00p.m. ET at Pocono Raceway. Fans can follow Hill on social media for updates at Austin Hill Racing (Facebook), @_AustinHill (Twitter) and @_Austin_Hill_ (Instagram).
# # #
About Austin Hill
Austin Hill, a Winston, Ga. native, is driven to become the next big name in NASCAR. The 22-year-old is driving a partial schedule in the 2016 NASCAR Camping World Truck Series. Hill earned a third-place finish in the NASCAR K&N Pro Series East Championship in only his second full-time season in the series. Hill is a two-year member of NASCAR Next, a program designed to cultivate and promote the sports' next generation of superstars. Over the past two years, Hill has secured four NASCAR K&N victories and 12 Top-5 finishes. Hill started his racing career at the age of six in Quarter Midgets. He won the 2002 Quarter Midget championship at his hometrack in Cumming, Ga. and went on to excel in Bandolero, Legends Semi-Pro Series and Pro Late Model Series racing. Hill currently resides in Mooresville, N.C. with his wife, Ashlyn, and daughter, Lynnlee.