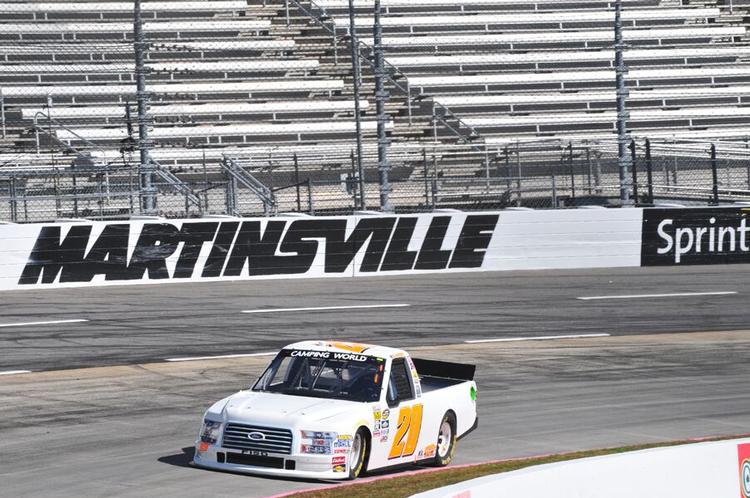 Austin Hill, No. 20 Alien Gear Holsters, Lawless Jerky Ford F-150 Race Notes and Quotes
October 29, 2016
Austin Hill
No. 20 Alien Gear Holsters, Lawless Jerky Ford F-150
Austin Hill Racing
Event Preview Fact Sheet
Event Texas Roadhouse 200 presented by Alpha Energy Solutions
Date: October 29, 2016
Venue: Martinsville Speedway
Austin Hill, No. 20 Alien Gear Holsters, Lawless Jerky Ford F-150
Race Notes and Quotes:
This Week's Austin Hill Racing Ford at Martinsville … Austin Hill will pilot chassis No. 012 from the AHR NASCAR Camping World Truck Series stable. The chassis made its AHR debut at New Hampshire Motor Speedway earlier this season, where Hill qualified 11th.
Hill at Martinsville… Hill has two previous starts at the Martinsville, V.A. facility, both coming in during the 2014 and 2015 NCWTS seasons. Hill's highest finish came in his 2015 outing, where he finished 19th.
Last Outing at New Hampshire… Marking his first career NCWTS start at New Hampshire Motor Speedway, Hill, racing under the Young's Motorsports banner, advanced through all three rounds of qualifying to start 11th. After quickly working himself well into the top-10, Hill reported smoke inside the cab of his No. 02 Ford F-150 at lap 104, forcing him to pit road. Unfortunately, his day would end there, as the crew diagnosed the problem as a torn oil line, due to debris, relegating him to a 30th place finish.
Welcome Aboard … Austin Hill Racing is pleased to welcome aboard two new associate partners to their racing family. Alien Gear Holsters, one of the premier makers of holsters for the concealed carry marketplace and Lawless Jerky, America's Craft Jerky producer, making "Braver Flavors™," will adorn the No. 20 for the remainder of the season.
Eyes in the Sky … Working high above the grandstands for this weekends 200-lap event, is veteran spotter Freddie Kraft. Kraft can be found on Sunday's spotting for Roush Fenway Racing in the Sprint Cup Series.
Social Media …To keep up-to-date with the latest news and information and to view exclusive content, visit the Official Twitter pages of Austin Hill @_AustinHill as well as Alien Gear Holsters @AlienGHolsters and Lawless Jerky @LawlessJerky
Catch the Action … Flag-to-flag coverage of the Texas Roadhouse 200 will be televised on FoxSports 1 beginning at 1:30 p.m. Eastern Time on Saturday, October 29, and broadcast live on the Motor Racing Network and Sirius XM Satellite Radio beginning at 1:30 p.m. ET.
AUSTIN HILL QUOTE:
"I always enjoy racing at tracks that I have had some previous (NCWTS) experience. This will be the first time I have visited Martinsville under the Austin Hill Racing banner, having previously raced here with two different teams. My guys have been working tirelessly to prepare us for the race and I know we will have a really fast Alien Gear Holsters, Lawless Jerky Ford F-150."
###
About Austin Hill
Austin Hill, a Winston, Ga. native, is driven to become the next big name in NASCAR. The 22-year-old is driving a partial schedule in the 2016 NASCAR Camping World Truck Series. Hill is a two-year member of NASCAR Next, a program designed to cultivate and promote the sports' next generation of superstars. Over the past two years, Hill has secured four NASCAR K&N victories and 12 Top-5 finishes. Hill started his racing career at the age of six in Quarter Midgets. He won the 2002 Quarter Midget championship at his hometrack in Cumming, Ga. and went on to excel in Bandolero, Legends Semi-Pro Series and Pro Late Model Series racing. Hill currently resides in Mooresville, N.C. with his wife, Ashlyn, and daughter, Lynnlee.
About Alien Gear Holsters
Alien Gear Holsters is one of the premier makers of holsters for not only concealed carry, but also the everyday carry marketplace. Employing one of the largest gun libraries in existence, with more than 500 makes and models of firearms, they are able to offer holsters other companies simply can not. On top of custom molding each holster shell to the exact make and model of firearm the holster is intended for, they also offer custom made gun belts. Alien Gear offers one of the industry's most comprehensive warranties on holsters, warrantying every holster for life. Learn more at www.AlienGearHolsters.com
About Lawless Jerky
Lawless Jerky offers unique "Braver Flavors™" that include: Sweet Sriracha, Aloha Teriyaki, Pho, Japanese Curry, BBQ Spare Rib and other world-inspired varieties. Handmade in micro-batches in the USA, Lawless Jerky uses 100% grass-fed beef and hormone-free, antibiotic-free pork. Lawless Jerky does not use sodium nitrites, MSG, corn syrup, or added preservatives. Learn more about America's Craft Jerky at www.LawlessJerky.com and be sure to use promo code LAWLESSRACING to receive 20% off your order.