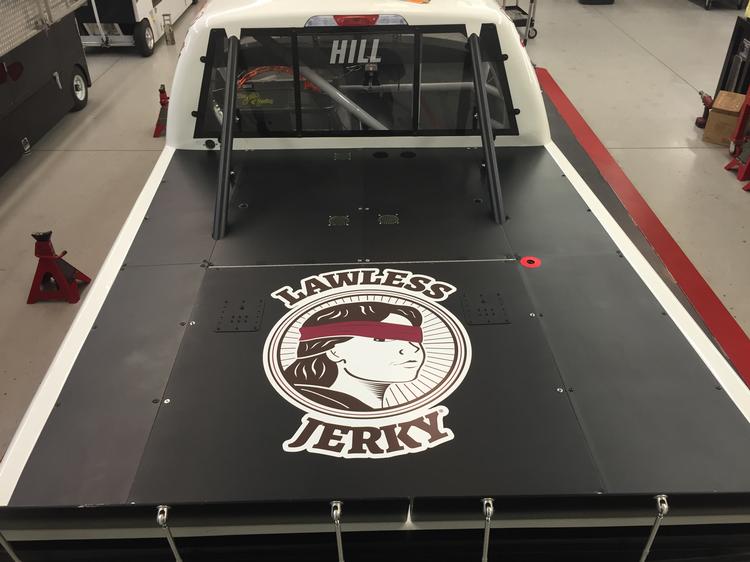 Lawless Jerky Partners with Austin Hill Racing to Cap off 2016 Season
October 24, 2016
Lawless Jerky Partners with Austin Hill Racing to Cap off 2016 Season
Americas Craft Jerky Producer Set to Deliver Unique "Braver Flavors™" to NASCAR
MOORESVILLE, N.C. (October 24, 2016) – Austin Hill Racing (AHR) officials announced today that Lawless Jerky, America's Craft Jerky available in unique "Braver Flavors™," has partnered with the team for the remainder of the 2016 NASCAR Camping World Truck Series (NCWTS) season. Lawless Jerky will serve as an associate sponsor for driver Austin Hill in his three remaining scheduled races.
"We're pleased to get on board with Austin Hill and his team, as they're a team that, like us, puts in the hard work it takes to get superior results." Commented Sean Biederman, Lawless Jerky Chief Marketing Officer. "We look forward to seeing Lady Lawless take to the track with Austin and showcase America's Craft Jerky."
Racing into action at Martinsville Speedway on Saturday, October 29, the newly formed partnership is set to also be on display in the NCWTS events at Texas Motor Speedway on November 4 as well as the season finale at Homestead-Miami Speedway on Saturday, November 18. Proudly made in the USA, Lawless Jerky will now be recognized as the official Craft Jerky for Austin Hill and Austin Hill Racing.
"I am proud to be able to represent a company that not only makes a delicious product, but is handmade in the USA, and Lawless Jerky is just that company." Commented Hill. "Anytime a company enters the market with a plan to overturn the status quo, with a higher quality, bolder tasting product, you are seeing the future of the industry unfold. Everyone at Austin Hill racing is excited to welcome Lawless Jerky onboard and we look forward to a strong showing as we close out the season."
Lawless Jerky offers unique "Braver Flavors™" that include: Sweet Sriracha, Aloha Teriyaki, Pho, Japanese Curry, BBQ Spare Rib and other world-inspired varieties. Handmade in micro-batches in the USA, Lawless Jerky uses 100% grass-fed beef and hormone-free, antibiotic-free pork. Lawless Jerky does not use sodium nitrites, MSG, corn syrup, or added preservatives. Learn more about America's Craft Jerky at www.LawlessJerky.com.
Austin Hill Racing will next see NASCAR Camping World Truck Series action Saturday, October 29 at Martinsville Speedway. Hill and his No. 20 Ford F-150 will take the green flag shortly after 1:30 PM Eastern for the 200 lap showdown. FoxSports 1 will carry the live television broadcast, while the Motor Racing Network (MRN) and SiriusXM Satellite Radio, will have live radio coverage.
Fans can follow Hill on social media for updates at AustinHillRacing (Facebook), @_AustinHill (Twitter) and @_Austin_Hill_ (Instagram). Also be sure to check out Lawless Jerky at LawlessJerky (Facebook), @LawlessJerky (Twitter) and @LawlessJerky (Instagram).
###
About Austin Hill
Austin Hill, a Winston, Ga. native, is driven to become the next big name in NASCAR. The 22-year-old is driving a partial schedule in the 2016 NASCAR Camping World Truck Series. Hill is a two-year member of NASCAR Next, a program designed to cultivate and promote the sports' next generation of superstars. Over the past two years, Hill has secured four NASCAR K&N victories and 12 Top-5 finishes. Hill started his racing career at the age of six in Quarter Midgets. He won the 2002 Quarter Midget championship at his hometrack in Cumming, Ga. and went on to excel in Bandolero, Legends Semi-Pro Series and Pro Late Model Series racing. Hill currently resides in Mooresville, N.C. with his wife, Ashlyn, and daughter, Lynnlee