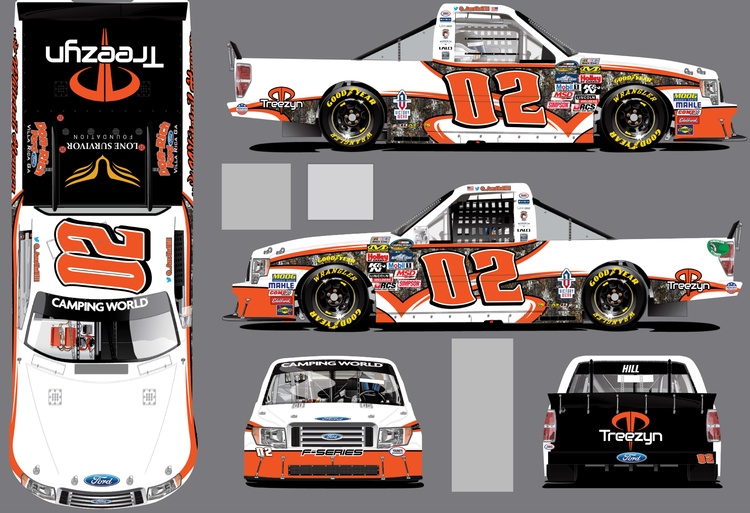 Austin Hill and Young's Motorsports Ready to Battle Bristol
August 14, 2017
Austin Hill
No. 02 Ford F150
Young's Motorsports
Event Preview Sheet
Event UNOH 200
Date: August 16, 2017
Venue: Bristol Motor Speedway
Austin Hill and Young's Motorsports Ready to Battle Bristol
Hill set to make second career NCWTS start at the famed half-mile speedway
Two time NASCAR Next alumnus Austin Hill is set to make his second career NASCAR Camping World Truck Series (NCWTS) start at the famed Bristol Motor Speedway Wednesday evening. Riding momentum from his last two finishes, Hill also enters the weeknight race with prior experience in the NASCAR K&N East Series.
This Week's Young's Motorsports Ford at Pocono … Austin Hill will pilot chassis No. 012 from the Young's Motorsports stable. Chassis 101 most recently raced at Dover International Raceway where Hill was taken from contention early after a competitor spun directly in front of him.
Second Times a Charm… Hill will be making his second career NCWTS start at the .5-mile high banked track. In his only other appearance, Hill started the event 18th, before getting relegated to a 19th place finish due to an ill handling truck.
K&N East Series… While Wednesday marks Hill's second NCWTS start at Bristol the Winston, G.A. native has three previous NASCAR K&N East Series starts at the Bristol, Tenn. track, amassing two top-10 and one top-five finishes.
Up in the Sky … Calling the shots high above Bristol Motor Speedway this weekend will be NASCAR Monster Energy Cup Series spotter, Freddie Kraft. Hill and Kraft previously worked together throughout the 2016 NCWTS season.
Social Media… To keep up-to-date with the latest news and information and to view exclusive content, visit the Official Twitter pages of Austin Hill @_AustinHill and Young's Motorsports owner Tyler Young @TylerYoung02
Catch the Action … Flag-to-flag coverage of the UNOH 200 will be televised live on FS1 beginning at 8:30 p.m. Eastern Time on Wednesday, August 16, and broadcast live on the Performance Racing Network and Sirius XM Satellite Radio beginning at 8:30 p.m. ET.
AUSTIN HILL QUOTE:
"Its always fun heading back to a track that you've raced at before and having the added experience of racing at Bristol in the K&N East Series helps that much more. Our crew has worked tirelessly to put out the best trucks each week and I feel very confident in our shot this week."
###
About Austin Hill
Austin Hill, a Winston, Ga. native, is driven to become the next big name in NASCAR. The 23-year-old is driving a partial schedule in the 2017 NASCAR Camping World Truck Series. Hill is a two-year member of NASCAR Next, a program designed to cultivate and promote the sports' next generation of superstars. Over his career, Hill has secured five NASCAR K&N victories and one pole award. Hill started his racing career at the age of six in Quarter Midgets. He won the 2002 Quarter Midget championship at his home track in Cumming, Ga. and went on to excel in Bandolero, Legends Semi-Pro Series and Pro Late Model Series racing. Hill currently resides in Salisbury, N.C. with his wife, Ashlyn, and daughter, Lynnlee.