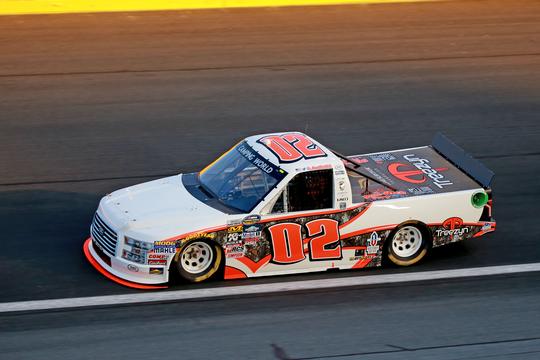 String of Bad Luck Relegates Austin Hill to Top-25 Finish at Charlotte
May 23, 2017
NASCAR Camping World Truck Series
NC Education Lottery 200
Charlotte Motor Speedway
May 19, 2017
Race Highlights:
The NC Education Lottery 200 marked the 5th race of the 2017 NASCAR Camping World Truck season and third race for Austin Hill.
Hill started 14th and raced his way as high as 10th during the 200-lap race.
This was Hill's first career start at the Concord, N.C. facility.
Kyle Busch earned the victory and was followed to the finish line by Johnny Sauter, Christopher Bell, Ryan Truex and Timothy Peters.
Hill's next scheduled event is at Dover Internatioanl Speedway on Friday, June 2nd. The race will broadcast live on FoxSports1.
String of Bad Luck Relegates Austin Hill to Top-25 Finish at Charlotte
Austin Hill and the No. 02 Young's Motorsports team started the race weekend out on a high note, introducing new partner Treezyn Camo and the corresponding camo themed paint scheme. Having spent most of the available practice time, working on race runs, Hill qualified 14th for the 200-lap event and wasted no time trying to make his way to the front once the green flag flew. While working traffic, Hill had a tire go flat while making a pass, bringing out the nights first caution on lap eight. As Hill headed to pit road the tire began to shred, causing body damage. Even though Hill worked his way well into the top-15 each run, he was forced to pit road under the next four cautions, to work on the right rear fender. Continuing his quest towards the front, Hill broke inside the top-10 as the laps wound down in the second segment, ultimately earning one-bonus point for his finish. Shortly after starting the third and final round, Hill radioed crew chief Bruce Cook that he had a right front tire going down on lap 99. After loosing two laps for pitting under green, Hill was once again bit by bad luck as he had a left front tire go flat, miring him four laps down. Never giving up, Hill would bring home the No. 02 Treezyn Camo Ford in the 26th position.
Start – 14 Finish – 26 Laps Led – 0
AUSTIN HILL QUOTE:
"Unfortunately, today was just not our day. We had a really good truck under green flag conditions, having spent the entire test and our practice sessions focusing on the trucks night time handling. Was it not for a string of bad luck, I believe we would have had a solid top-10 finish, without a doubt. There was nothing anyone could have done differently, as two of the three flat tires were all cut from some sort of debris on the track, and that's just how racing goes sometimes. We want to thank Treezyn Camo for coming onboard for the race and look forward to showcasing the camo designed truck again soon and look forward to getting to Dover (International Speedway) in a few short weeks."
###
About Austin Hill
Austin Hill, a Winston, Ga. native, is driven to become the next big name in NASCAR. The 22-year-old is driving a partial schedule in the 2017 NASCAR Camping World Truck Series, in a newly formed partnership with Young's Motorsports, in the No. 02 Ford F-150. Hill successfully graduated, after being a two-year member of NASCAR Next, a program designed to cultivate and promote the sports' next generation of superstars. Hill started his racing career at the age of six in Quarter Midgets and won the 2002 Quarter Midget championship at his home track in Cumming, G.A. before moving on to excel in the Bandolero, Legends Series and Pro Late Model Series. While in the NASCAR Next program, Hill secured five wins and one pole award in the NASCAR K&N Pro Series East, along with 13 top-five, 24 top-10 finishes. Hill currently resides in Salisbury, N.C. with his wife, Ashlyn, and daughter, Lynnlee