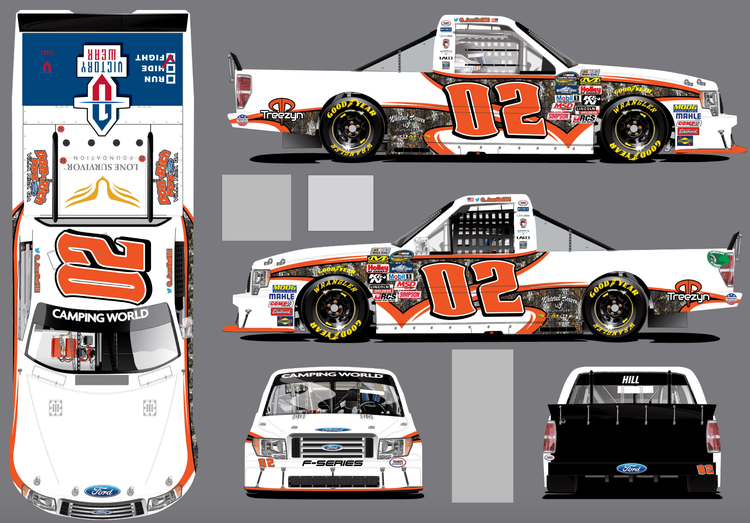 Austin Hill Looks to Reverse String of Bad Luck at Gateway Motorsports Park
June 14, 2017
Austin Hill
No. 02 Ford F150
Young's Motorsports
Event Preview Sheet
Event Drivin' For Linemen 200
Date: June 17, 2017
Venue: Gateway Motorsports Park
Austin Hill Looks to Reverse String of Bad Luck at Gateway Motorsports Park
Hill to make his career first start at Gateway
Former NASCAR Next Alumnus, Austin Hill, looks for a role reversal on his recent string of bad luck, heading into Saturday nights Drivin' For Linemen 200 at Gateway Motorsports Park. While the Winston, G.A. native has never raced at the famed track just east of St. Louis, Missouri, he has attended the NASCAR Camping World Truck Series events in the past in preparation for his first career start.
This Week's Young's Motorsports Ford at Gateway … Austin Hill will pilot chassis No. 103 from the Young's Motorsports stable. Chassis 103 most recently raced at Martinsville Speedway.
First Times a Charm… Hill will be making his first career start at the variable banked 1.25-mile speedway. On top of visiting the track in years past for the NCWTS event, Hill has also spent considerable time on the racing simulator, learning the tracks nuances.
Calling the Shots … Calling the shots from atop the Young's Motorsports pit box this weekend will be veteran crew chief Bruce Cook. Filling in for Cook while he crew chiefs the No. 93 of Ryan Sieg at Michigan International Speedway in the NASCAR Xfinity Series, will be Hill's longtime truck chief, Steven Dawson. Cook is expected to make it to Gateway for the green flag Saturday night.
NASCAR Salutes … Hill and the No. 02 team will be partaking in the NASCAR Salutes festivities going on throughout the day at Gateway, including celebrating nearby Scott Air Force Base's 100th Anniversary.
Social Media… To keep up-to-date with the latest news and information and to view exclusive content, visit the Official Twitter pages of Austin Hill @_AustinHill and Young's Motorsports owner Tyler Young @TylerYoung02
Catch the Action … Flag-to-flag coverage of the Drivin' For Linemen 200 will be televised on FoxSports 1 beginning at 8:30 p.m. Eastern Time on Saturday, June 17, and broadcast live on the Motor Racing Network and Sirius XM Satellite Radio beginning at 5:30 p.m. ET.
AUSTIN HILL QUOTE:
"Heading to a new track is always a fun experience. Luckily I've had the chance to visit Gateway (Motorsports Park) a few times in the past and watch the truck series in action and I have spent some time on the racing simulator there. Its really a unique track, with one end of the track racing like New Hampshire (Motor Speedway) and the other like Phoenix (International Raceway). I am excited to hit the track Saturday and see what our No. 02 Ford F150 has for everyone else."
###
About Austin Hill
Austin Hill, a Winston, Ga. native, is driven to become the next big name in NASCAR. The 23-year-old is driving a partial schedule in the 2017 NASCAR Camping World Truck Series. Hill is a two-year member of NASCAR Next, a program designed to cultivate and promote the sports' next generation of superstars. Over his career, Hill has secured five NASCAR K&N victories and one pole award. Hill started his racing career at the age of six in Quarter Midgets. He won the 2002 Quarter Midget championship at his home track in Cumming, Ga. and went on to excel in Bandolero, Legends Semi-Pro Series and Pro Late Model Series racing. Hill currently resides in Salisbury, N.C. with his wife, Ashlyn, and daughter, Lynnlee