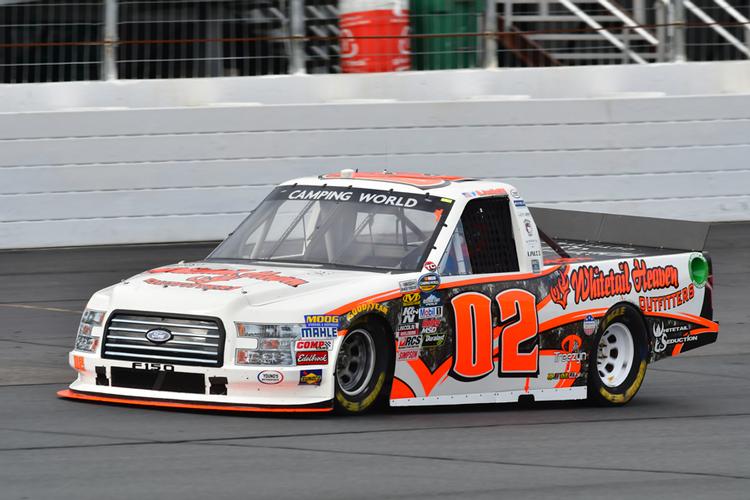 Hill's Day Cut Short After Losing Brake Caliper
September 25, 2017
NASCAR Camping World Truck Series
UNOH 175
New Hampshire Motor Speedway
September 23, 2017
Race Highlights:
The UNOH 175 marked the 17th race of the 2017 NASCAR Camping World Truck season and ninth race for Austin Hill.
Hill started 15th and was racing in the top-10 before being forced to the garage with a broken right-rear brake caliper.
This was Hill's second career NCWTS start at the Loudon, N.H. facility.
Christopher Bell earned the victory and was followed to the finish line by Ryan Truex, Todd Gilliland, Grant Enfinger and Stewart Friesen.
Hill's next scheduled event is at Martinsville Speedway on Saturday, October 28th. The race will broadcast live on FoxSports1.
Hill's Day Cut Short After Losing Brake Caliper
Austin Hill and the No. 02 Whitetail Heaven Outfitters Ford F150 overcame a cracked radiator in the weekend's final practice session, en route to qualifying 15th for Saturday's main event. Making quick work of the initial start, Hill began picking up spots, quickly working his way to 12th by the end of Stage One. After pitting for four tires, fuel and a wedge adjustment, Hill rejoined the field 11th and worked his way into the top-10 on the ensuing restart. Fighting a loose race truck, whenever in the top grove, Hill continued to make fast time around the track. Pitting for the end of Stage Two, Hill once again took four tires, fuel and a wedge adjustment. Shortly after restarting the race Hill radioed crew chief Bruce Cook that he had a flat tire as well as a bad vibration and was losing brakes. Making his way back to pit road, the crew quickly diagnosed the problem as a flat right rear tire and a failed brake caliper, forcing the team out of the race. Hill and the No. 02 Whitetail Heaven Outfitters Ford F150 were credited with a 22nd place finish.
Start – 15 Finish – 22 Laps Led – 0
AUSTIN HILL QUOTE:
"Its really disheartening to have such a fast truck and have your day end so quickly due to a part failure. Our Whitetail Heaven Outfitters Ford had really good race speed and handled well when directly in the groove. I'm not sure how the brake caliper just fails like that, but we'll get everything back to the shop and have the manufacturer there to diagnose the problem."
###
About Austin Hill
Austin Hill, a Winston, Ga. native, is driven to become the next big name in NASCAR. The 23-year-old is driving a partial schedule in the 2017 NASCAR Camping World Truck Series, in a newly formed partnership with Young's Motorsports, in the No. 02 Ford F-150. Hill successfully graduated, after being a two-year member of NASCAR Next, a program designed to cultivate and promote the sports' next generation of superstars. Hill started his racing career at the age of six in Quarter Midgets and won the 2002 Quarter Midget championship at his home track in Cumming, G.A. before moving on to excel in the Bandolero, Legends Series and Pro Late Model Series. While in the NASCAR Next program, Hill secured five wins and one pole award in the NASCAR K&N Pro Series East, along with 13 top-five, 24 top-10 finishes. Hill currently resides in Salisbury, N.C. with his wife, Ashlyn, and daughter, Lynnlee.
About Whitetail Heaven Outfitters
Whitetail Heaven is excellent habitat and provides an excellent opportunity to harvest a mature Boone and Crocket scoring Buck. We manage and hunt over 50,000 acres in the heart of Boone & Crockett country. Little to zero hunting pressure on most of our properties allows us to continue to produce mature bucks every season. Good genetics, a healthy well fed herd, intense management practices, age and very experienced, knowledgeable guides is what gets us the results we want every year. We have cherry picked properties scattered across Southern Ohio, Central Kentucky, Florida and Southern Indiana that are as good of trophy buck hunting properties there are. Ohio, Kentucky and Indiana all rank in the top-5 for number of Boone and Crockett entries made over the past 5-years making them the current go to big buck destinations.